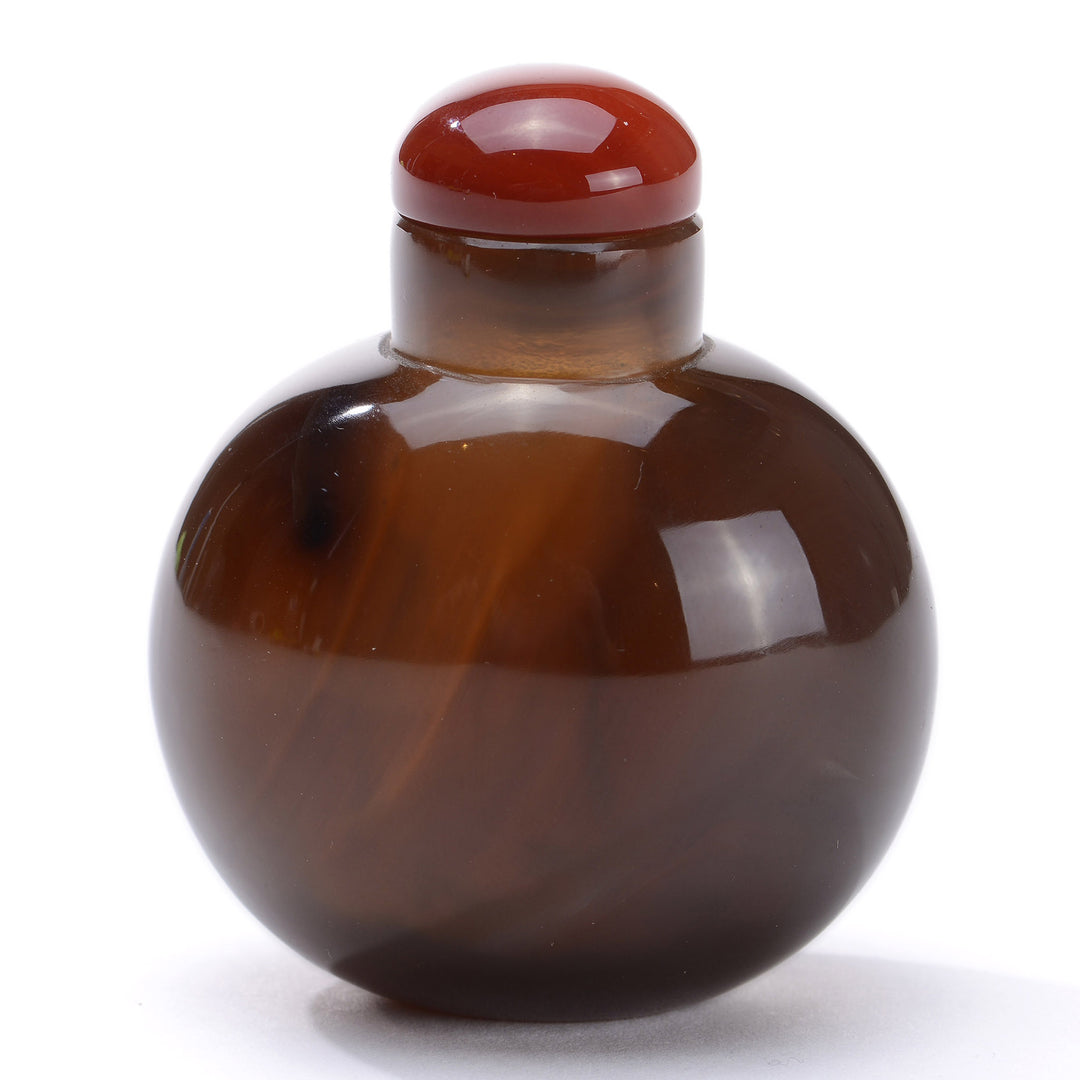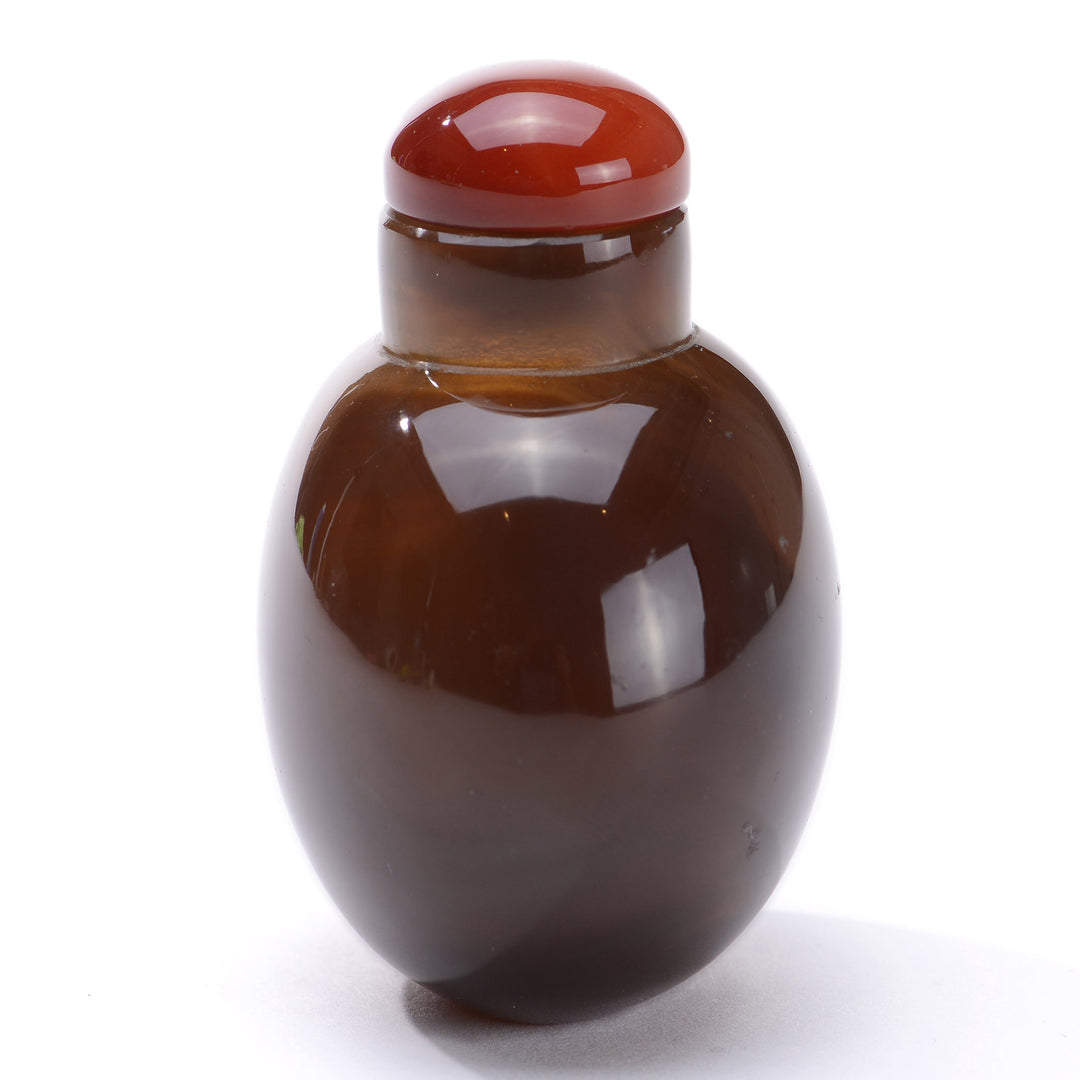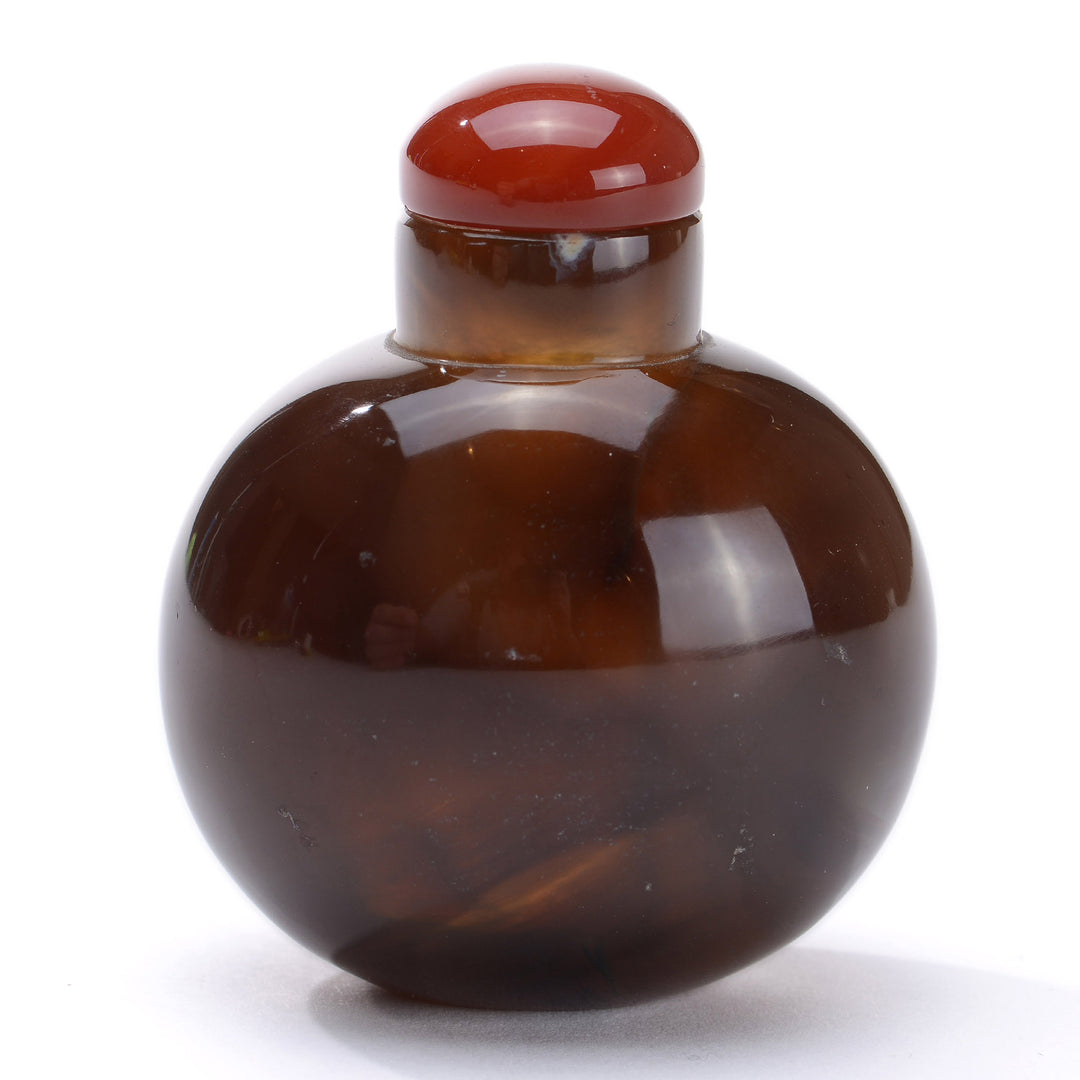 Unveiling the Polished Snuff Bottle Agate with Coral Stopper

Prepare to be enchanted by the mesmerizing beauty of our Polished Snuff Bottle Agate with Coral Stopper. This exquisite masterpiece is a harmonious fusion of nature's finest elements, meticulously crafted to captivate the senses. From the glistening polished surface to the vibrant coral stopper, every detail has been carefully considered to bring you a truly extraordinary piece.
A Gleaming Showcase of Nature's Wonders
The polished surface of this Snuff Bottle Agate is a testament to the magnificence of natural craftsmanship. As light dances across its lustrous facade, the captivating patterns and colors within the agate come to life, showcasing the remarkable beauty hidden within the stone. Each swirl, each striation tells a unique story, making this Snuff Bottle Agate a true marvel to behold.
Complementing the agate's splendor is the coral stopper—a vibrant burst of color that adds a touch of flair and sophistication. The coral's vivid hue, reminiscent of sunsets over pristine shores, creates a captivating contrast against the agate's earthy tones. Together, they form a visual symphony that harmonizes elegance and natural allure.
Elevate Your Collection with a Polished Snuff Bottle Agate
Discover the true essence of refinement as you add this Polished Snuff Bottle Agate with Coral Stopper to your collection. As a connoisseur of art and beauty, you recognize the value of owning a piece that exudes both craftsmanship and distinction. This Snuff Bottle Agate becomes an exquisite expression of your refined taste and discerning eye.
Not only does this magnificent creation elevate your collection, but it also becomes a reflection of your unique personality. Its timeless charm and exquisite design become an extension of your own style, making a bold statement about your appreciation for art and culture. Display it proudly and let its presence enrich your surroundings with its inherent elegance.
A Treasured Heirloom for Generations to Come
Imagine passing down this Polished Snuff Bottle Agate as an heirloom, a cherished piece that transcends time and connects generations. Its enduring beauty and significance make it a valuable legacy to be treasured by your loved ones. As they gaze upon the agate's polished surface and admire the coral stopper, they will be reminded of your impeccable taste and the stories behind this exquisite creation.
This Snuff Bottle Agate has the power to create lasting memories and become an emblem of family heritage. Its beauty becomes a vessel for stories, anecdotes, and shared moments that will be passed down from one generation to the next. As you invest in this remarkable piece, you are not only acquiring a work of art but also forging a connection between past, present, and future.
Unleash Your Imagination with the Polished Snuff Bottle Agate
Immerse yourself in a world of creativity and endless possibilities with the Polished Snuff Bottle Agate. This multifaceted masterpiece is not just a decorative item—it's a catalyst for inspiration. Its elegant design and versatile nature invite you to explore different ways of incorporating it into your lifestyle and personal style.
Whether used as a statement piece in your home decor, a captivating addition to your jewelry collection, or an object of fascination on your office desk, this Snuff Bottle Agate adapts to your preferences effortlessly. Its beauty transcends boundaries and can be appreciated in various contexts, making it a truly versatile and captivating possession.
A Gateway to Serenity and Tranquility
The Polished Snuff Bottle Agate holds more than just visual allure—it also emanates a sense of calm and tranquility. As you hold this masterpiece in your hands, you'll feel a subtle energy, soothing and comforting your senses. Its presence becomes a reminder to slow down, appreciate the beauty around you, and find solace in the midst of a hectic world.
Allow the Polished Snuff Bottle Agate to become your personal sanctuary—a source of serenity and respite. Its gentle energy infuses your surroundings, creating an atmosphere of tranquility that enhances your well-being. Embrace the peaceful aura it exudes and let it be your gateway to a more centered and harmonious life.
Dimensions: 1.5" x 2.25" x 2.5"
---