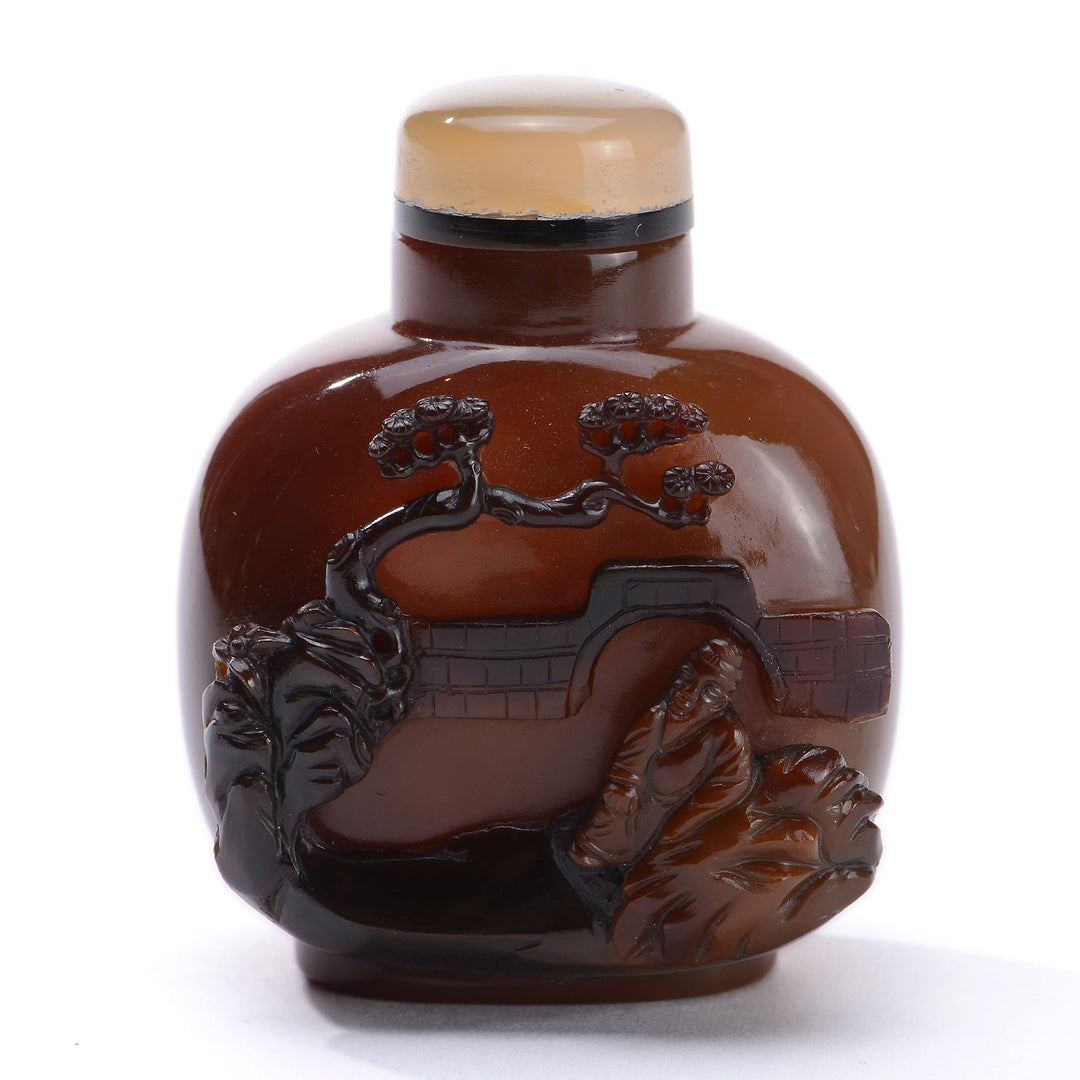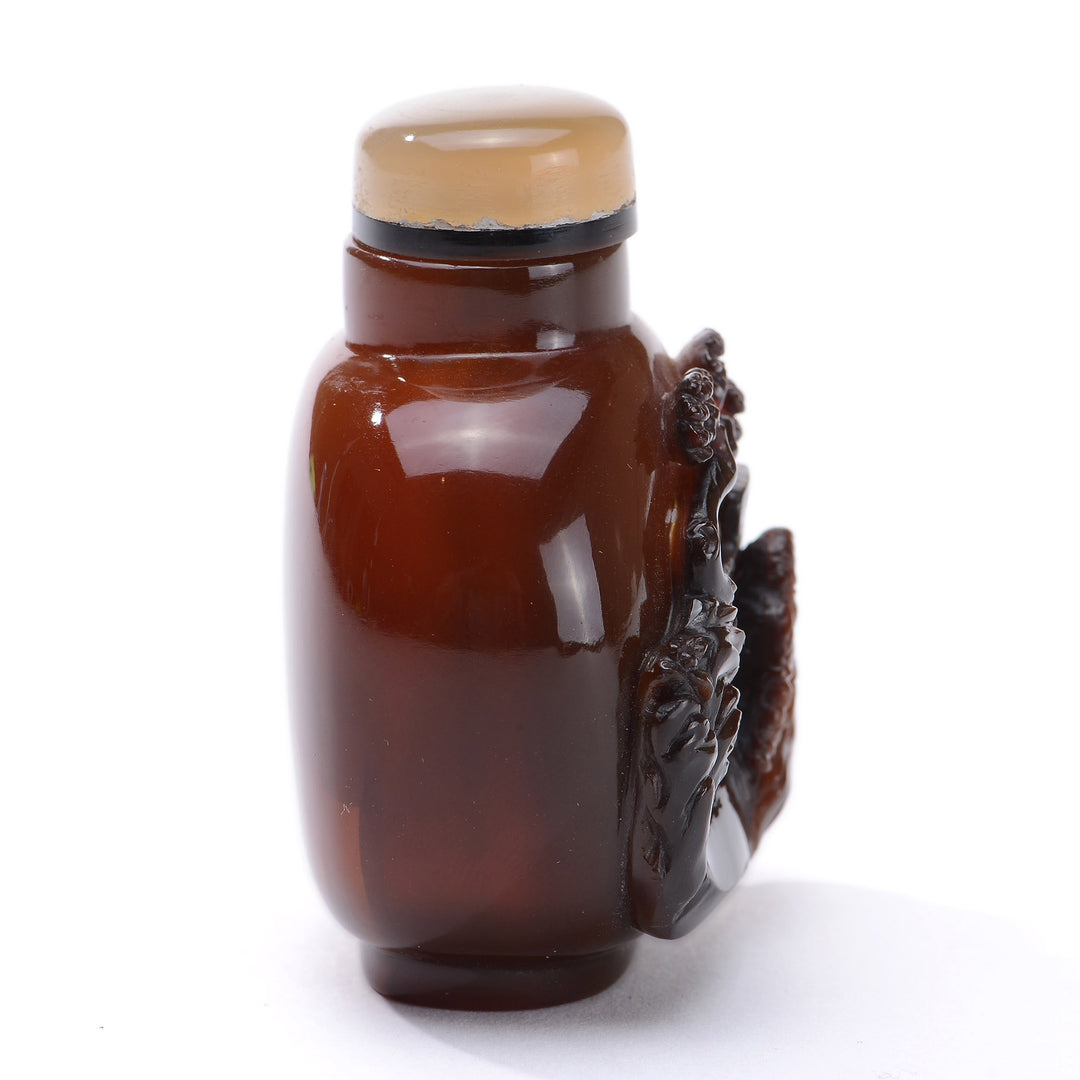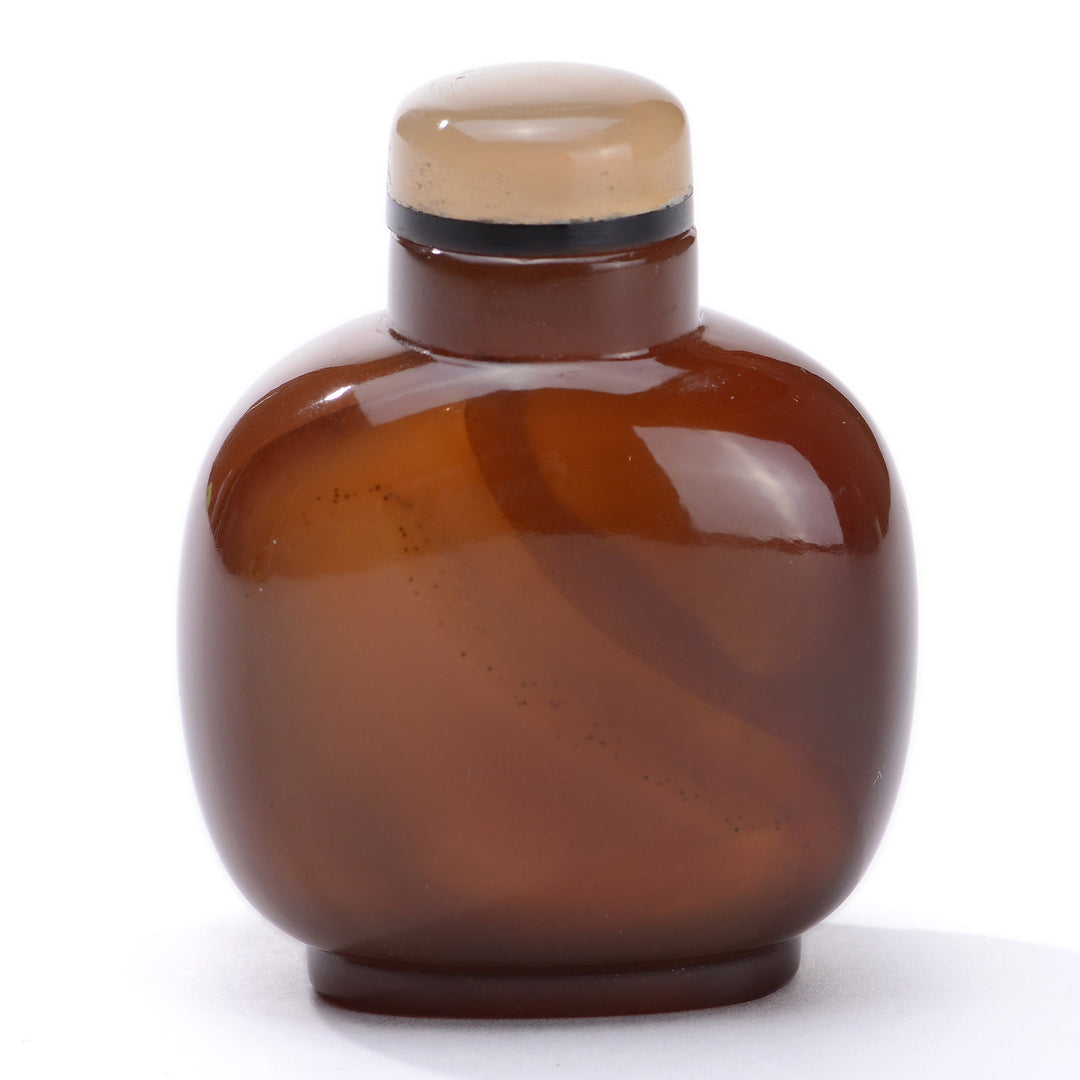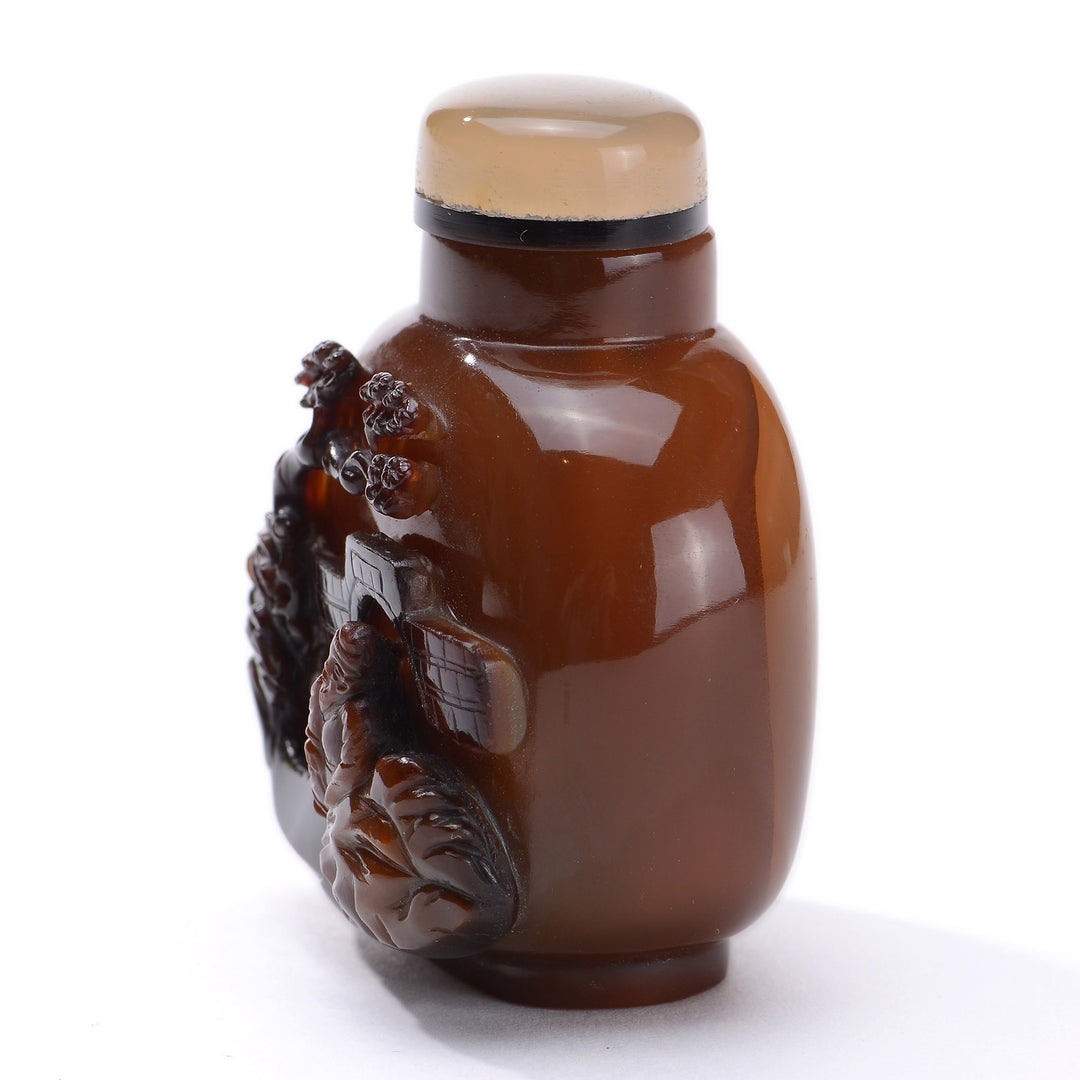 Unveiling a 19th Century Snuff Bottle Agate Masterpiece
Welcome to a world of timeless elegance and cultural heritage! Our Snuff Bottle Agate, meticulously carved in high relief, transports you to a bygone era of artistry and sophistication. Crafted by skilled artisans in the 19th century, this exquisite masterpiece showcases an intriguing figure situated beneath a majestic bridge. Allow us to take you on a journey through the distinctive features that make this Snuff Bottle Agate a captivating collector's item.
At first glance, you'll be captivated by the intricately detailed carving, skillfully brought to life by the hands of talented artisans. Every stroke and contour tells a story, depicting a figure enveloped in tranquility beneath an arching bridge. The high relief technique lends depth and dimension to the artwork, creating a visual masterpiece that truly stands out.
A Testament to Authenticity and Rarity
This Snuff Bottle Agate is not just a beautiful work of art—it's a window into history. Its origins can be traced back to the 19th century, a period renowned for its exquisite craftsmanship. With each passing year, these antique snuff bottles become rarer, making them highly sought-after by collectors and connoisseurs worldwide.
The age of this Snuff Bottle Agate adds to its allure and collectible value. Imagine holding in your hands a piece of history, a testament to the artistic skills and cultural traditions of centuries past. Its vintage nature and historical significance make it a remarkable addition to any collection, as well as a unique conversation starter for enthusiasts and admirers of art.
Unveiling the Essence of Elegance
Indulge your senses in the allure of our Snuff Bottle Agate, a true embodiment of elegance and refinement. Its smooth and polished surface invites your touch, while the captivating figure beneath the bridge mesmerizes your gaze. This exquisite piece transcends mere decoration—it's a statement of style and a symbol of your discerning taste.
The natural beauty of agate, with its unique patterns and colors, adds a touch of mystique to this Snuff Bottle. The contrasting hues and swirling formations within the stone create a mesmerizing tapestry that evokes a sense of awe and wonder. With its vibrant energy, this Snuff Bottle Agate becomes a focal point in any setting, enriching your surroundings with its undeniable charm.
A Delight for the Senses
Imagine experiencing the tactile pleasure of holding this Snuff Bottle Agate in your hands. The smoothness of the surface, coupled with the weight of history it carries, gives you a tangible connection to the past. As you run your fingers across the intricate carvings, you feel the passion and dedication of the craftsmen who shaped this masterpiece.
Display this Snuff Bottle Agate as a centerpiece in your home or office, and let its beauty mesmerize your guests. Watch as their eyes are drawn to the intricate details and rich symbolism captured within the artwork. Every glance will be a reminder of the timeless allure of this remarkable piece, and a testament to your refined taste.
A Journey of Symbolism and Harmony
Delve into the hidden meanings and profound symbolism of this Snuff Bottle Agate. The figure beneath the bridge represents a harmonious connection between the earthly and celestial realms. It embodies the balance and unity found in nature and serves as a reminder of the interconnectedness of all things.
The bridge itself acts as a metaphorical gateway, bridging the gap between the mundane and the extraordinary. It symbolizes transitions, opportunities, and the potential for personal growth. Owning this Snuff Bottle Agate serves as a reminder to embrace the transformative power of change and to find harmony in life's transitions.
A Soul-Stirring Addition to Your Collection
Whether you're an avid collector or a passionate enthusiast, this Snuff Bottle Agate is an exquisite addition to your treasure trove. Its historical significance, artistic merit, and symbolic depth make it a highly coveted item for those who appreciate the finer things in life.
Embrace the opportunity to own a piece of history—one that carries the whispers of ancient civilizations and the brilliance of master artisans. With this Snuff Bottle Agate, you'll not only enhance your collection, but also awaken a sense of wonder and appreciation for the artistry and cultural heritage it embodies.
Dimensions: 1.25" x 1.75" x 2.25"
---