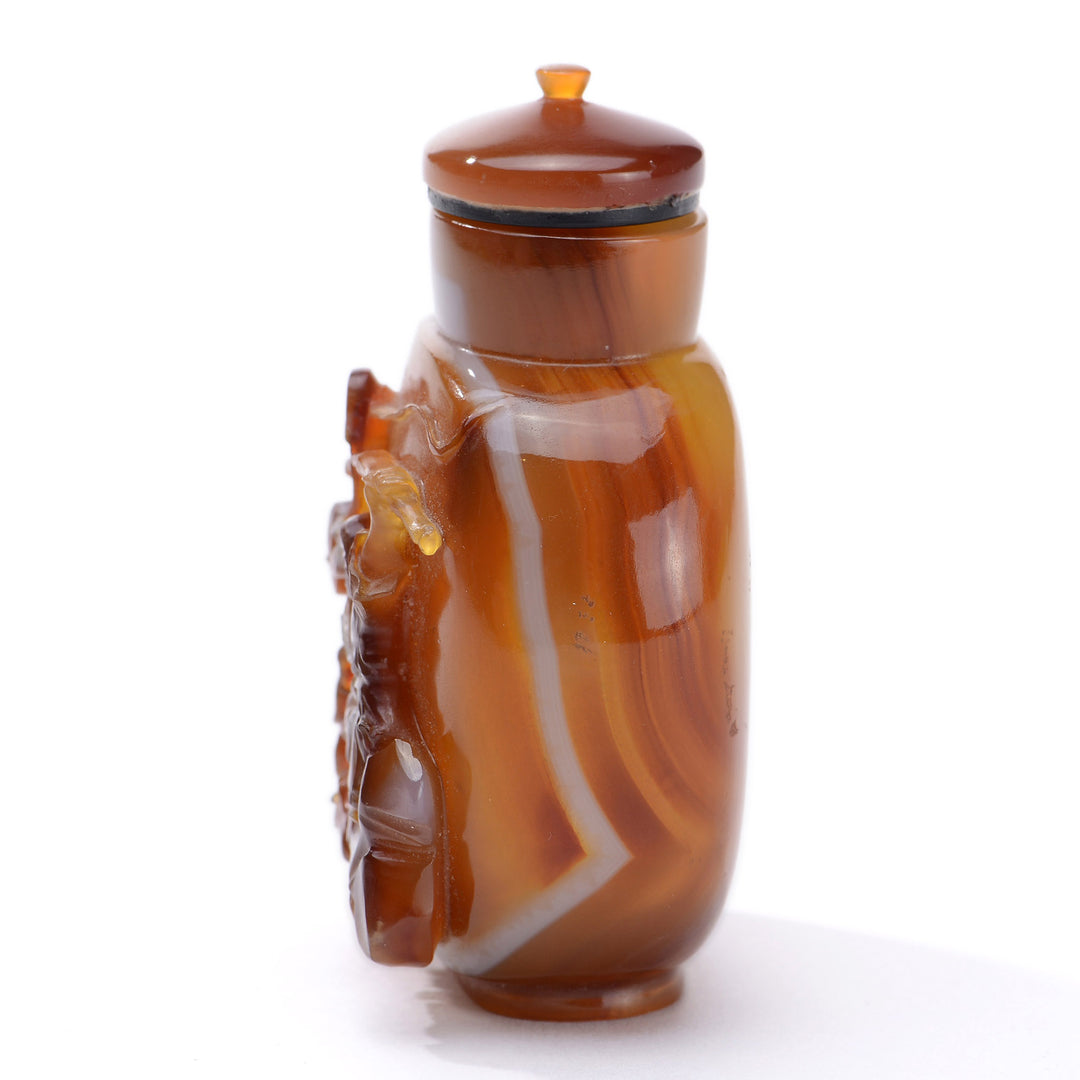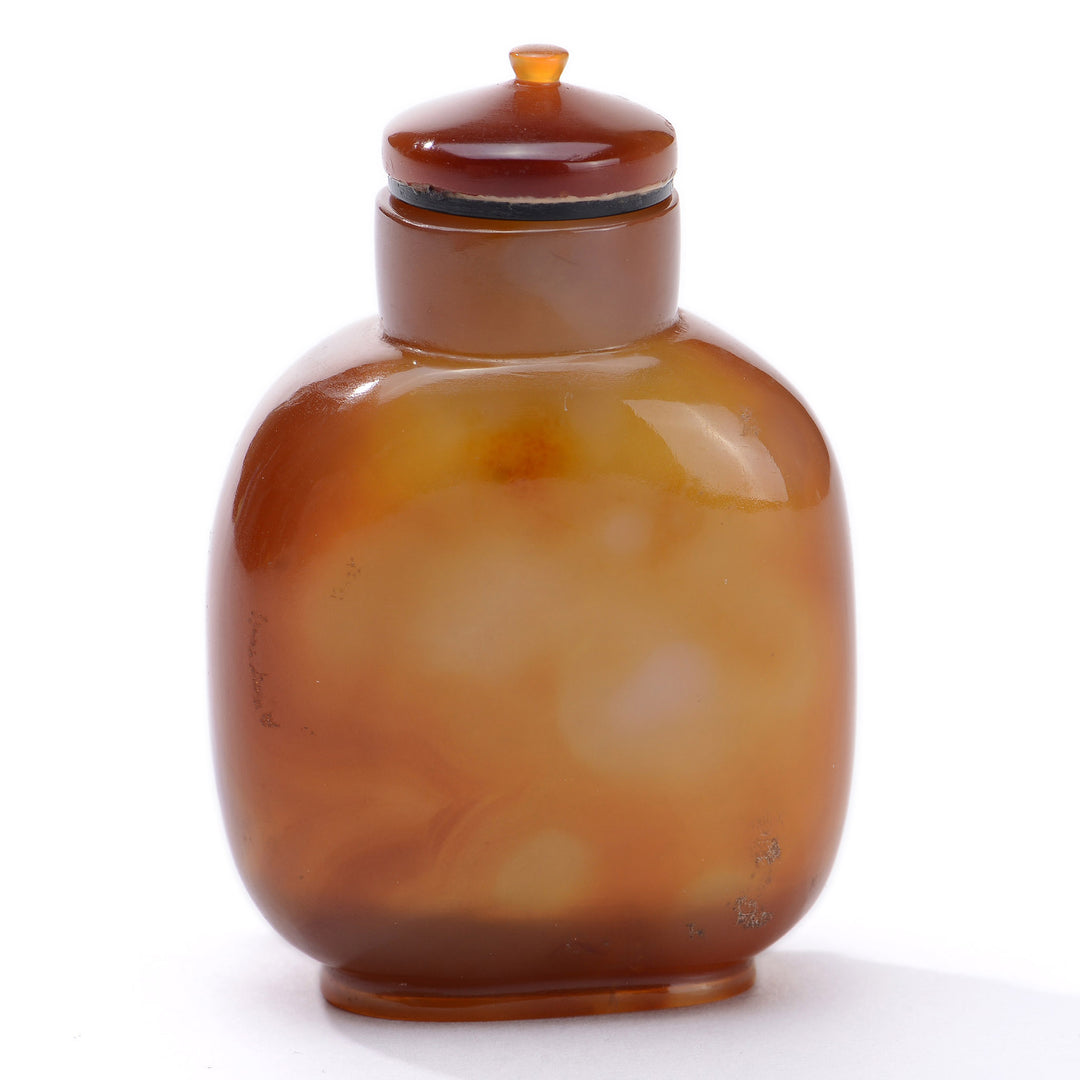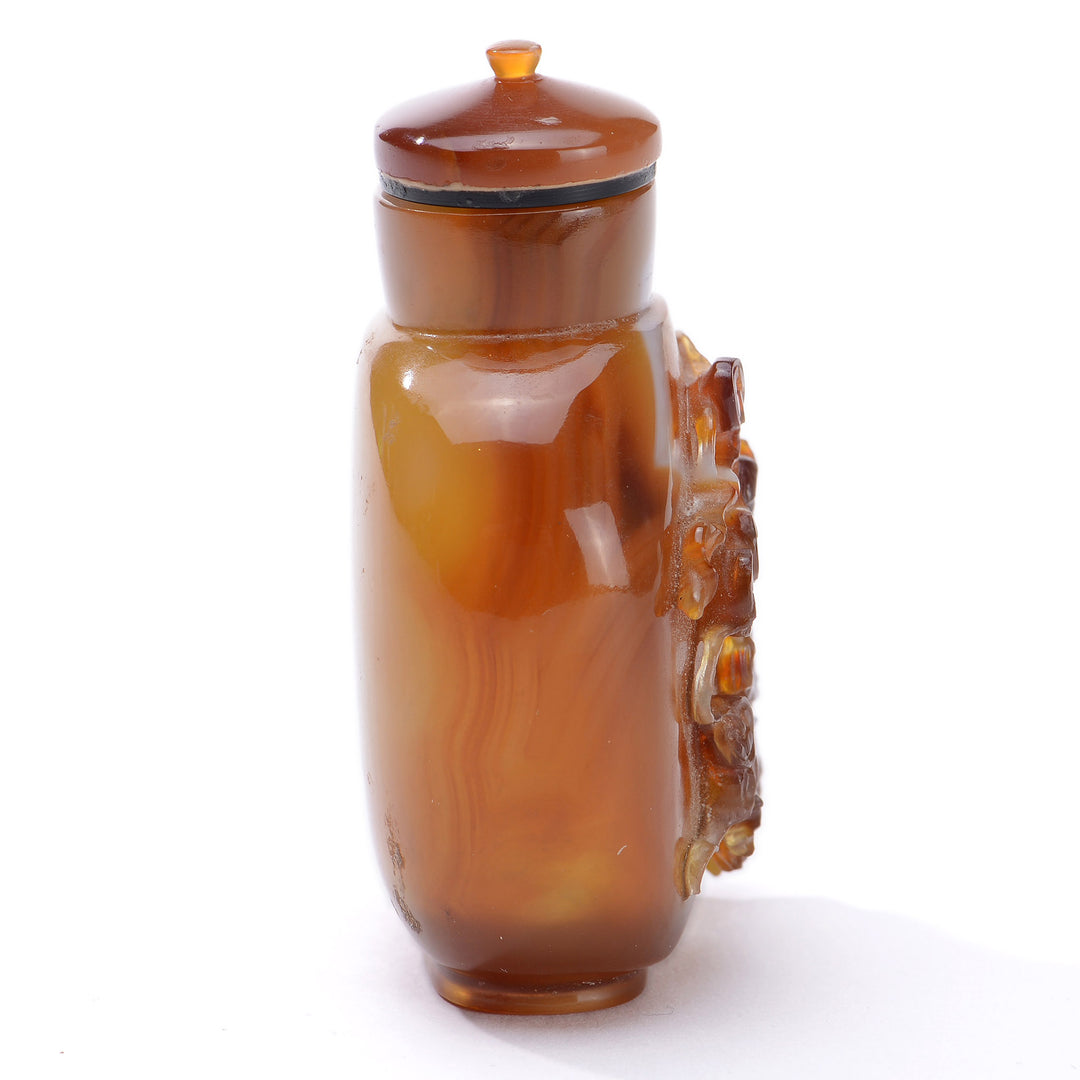 Unveiling the Beauty of Snuff Bottle Agate Circa 1900

Indulge in the timeless allure of the Snuff Bottle Agate Circa 1900, a true testament to exquisite craftsmanship and vintage elegance. This meticulously handcrafted snuff bottle features captivating carnelian agate in medium relief, taking you on a journey through history and artistry.
Immerse Yourself in History
Step into the enchanting world of the past with this antique snuff bottle. Dating back to the 1900s, it holds the secrets of an era characterized by grace, refinement, and sophistication. Each delicate stroke and intricately carved detail on the carnelian agate surface tells a story, making it a rare treasure that encapsulates the essence of a bygone era.
Unparalleled Artistry and Attention to Detail
Marvel at the remarkable craftsmanship and attention to detail that went into creating this Snuff Bottle Agate Circa 1900. Expert artisans dedicated hours to meticulously hand-carve the intricate patterns and designs, resulting in a masterpiece that truly stands out. The medium relief carnelian agate adds depth and texture, creating a stunning visual effect that enhances its overall appeal.
Vintage Elegance for Discerning Collectors
For those with a penchant for the finer things in life, the Snuff Bottle Agate Circa 1900 is a must-have addition to any collection. Its vintage charm and elegance make it a coveted item among collectors and enthusiasts alike. Display it proudly as a centerpiece or allow it to add a touch of refined sophistication to your personal space.
Harnessing the Mystical Properties of Carnelian Agate
Discover the extraordinary allure and metaphysical properties of the Snuff Bottle Agate Circa 1900, showcasing the mesmerizing beauty of carnelian agate in medium relief. Embrace the power of this captivating gemstone and unlock a world of positivity, protection, and personal transformation.
Energize Your Spirit with Vibrant Warmth
Carnelian agate, the gemstone adorning this snuff bottle, radiates a warm and vibrant energy that ignites the spirit within. Its fiery hues of red and orange symbolize passion, courage, and motivation, empowering you to take bold steps forward and pursue your dreams with unwavering determination.
Embrace Protection and Harmony
In addition to its aesthetic appeal, carnelian agate is believed to possess protective properties. It acts as a shield against negative energies, promoting a sense of security and emotional balance. By carrying this snuff bottle with you, you can create a sanctuary of serenity wherever you go, shielding yourself from external pressures and fostering inner harmony.
A Catalyst for Transformation
The Snuff Bottle Agate Circa 1900 serves as a powerful catalyst for personal transformation. Carnelian agate is said to stimulate creativity, boost self-confidence, and enhance mental clarity. By harnessing its energy, you can tap into your inner potential, embrace new opportunities, and embark on a journey of self-discovery and growth.
Elevate Your Gifting Experience with the Snuff Bottle Agate Circa 1900
Captivate your loved ones with a gift that transcends time – the Snuff Bottle Agate Circa 1900. This exquisite piece combines artistic beauty, historical significance, and the power of carnelian agate, making it a truly memorable and cherished present for any occasion.
A Timeless Symbol of Appreciation
Whether it's a special milestone, a birthday, or a heartfelt expression of gratitude, this snuff bottle encapsulates the essence of thoughtfulness and appreciation. Its vintage appeal and unique craftsmanship make it a standout gift that reflects the depth of your sentiments, creating a lasting impression on the recipient.
An Heirloom to Treasure
The Snuff Bottle Agate Circa 1900 goes beyond the realm of a simple gift; it holds the potential to become a cherished family heirloom. Passed down from generation to generation, this exquisite piece carries with it the stories of the past, connecting loved ones across time and leaving a lasting legacy that transcends borders and boundaries.
Unforgettable Moments, Unforgettable Gift
Presenting the Snuff Bottle Agate Circa 1900 is not just an act of giving; it's a celebration of moments that will be cherished forever. The recipient will experience the joy of unwrapping a gift that captures their imagination, evokes emotions, and embodies the essence of beauty and history. Create memories that will be treasured for a lifetime with this exceptional and meaningful gift.
Dimensions: 1" x 1.75" x 2.5"
---