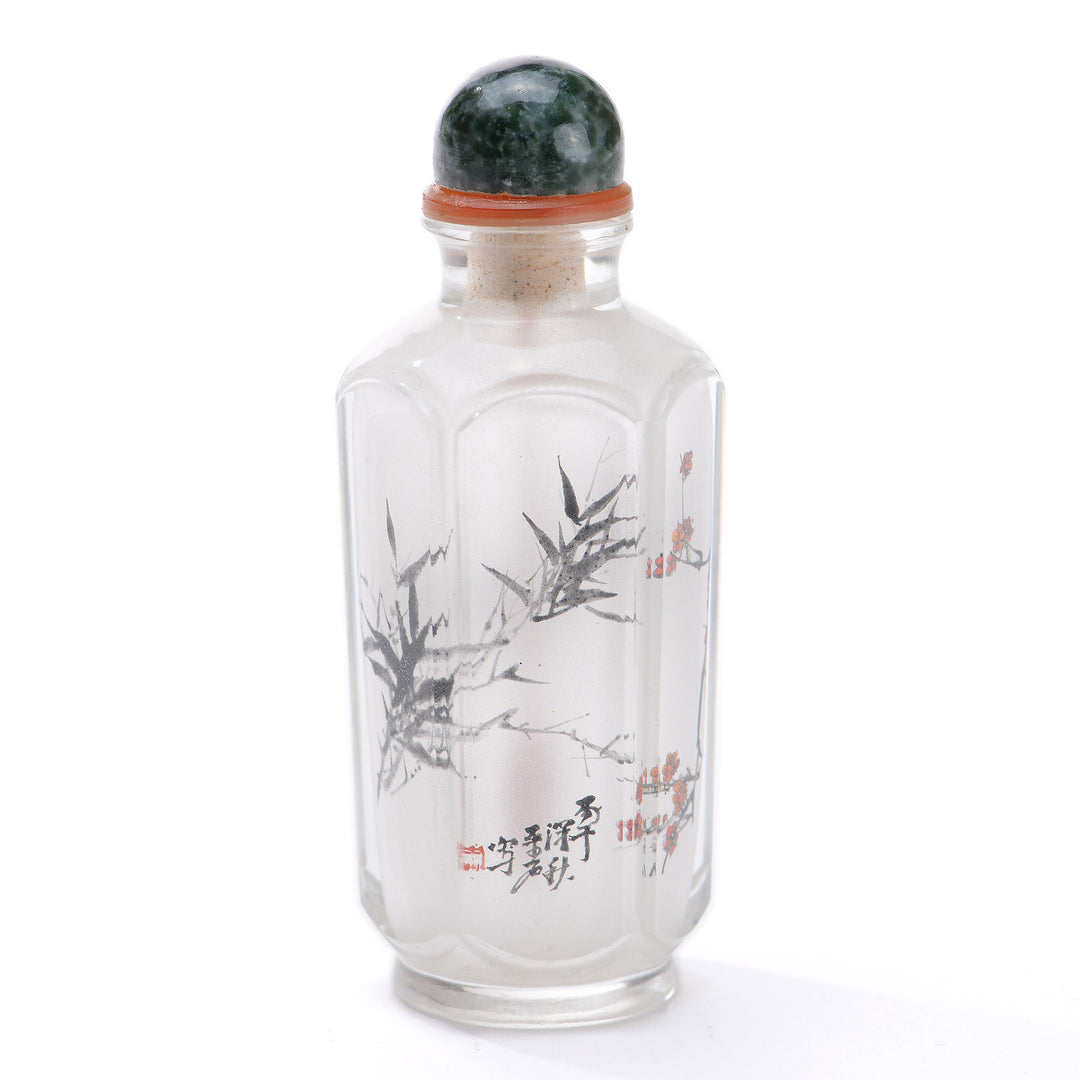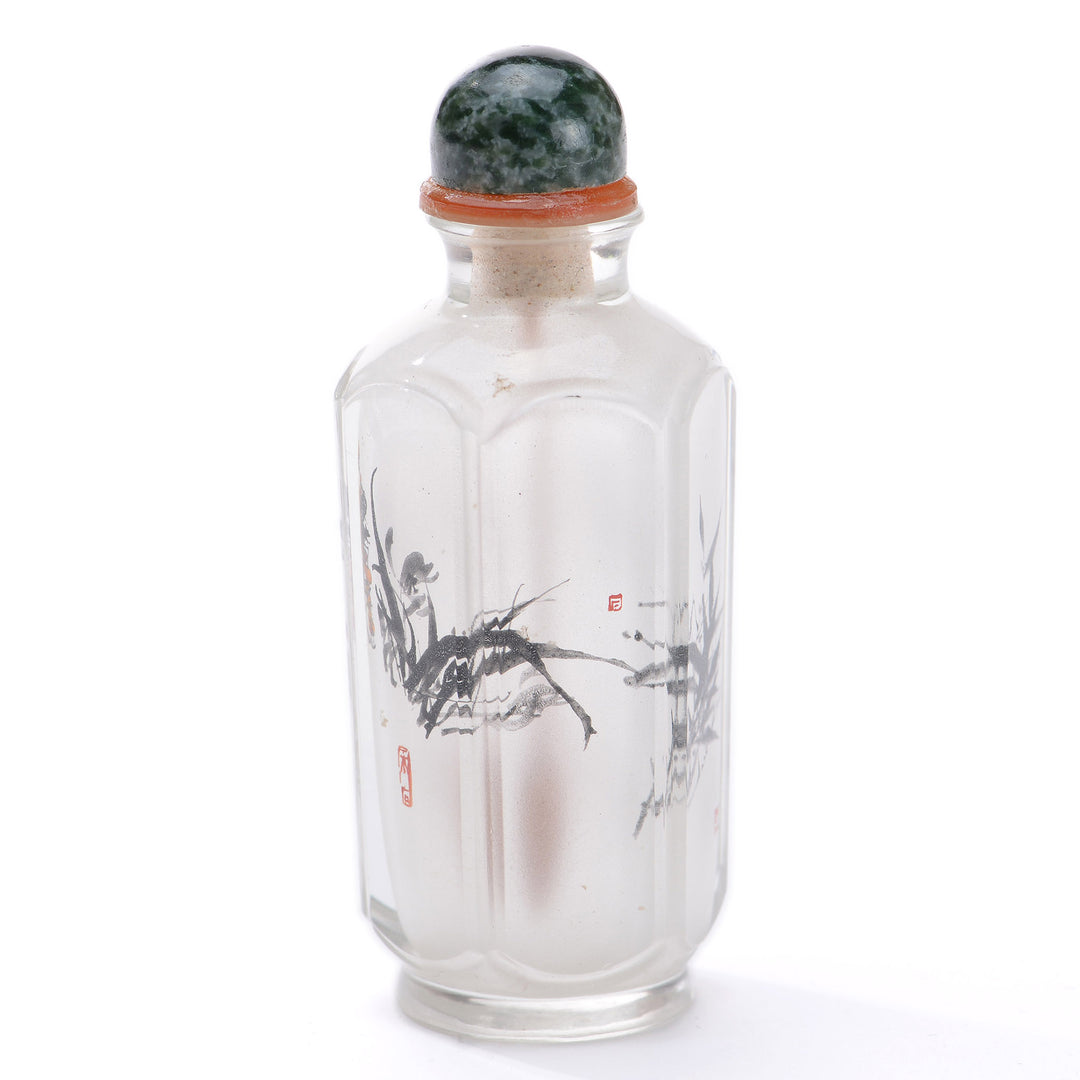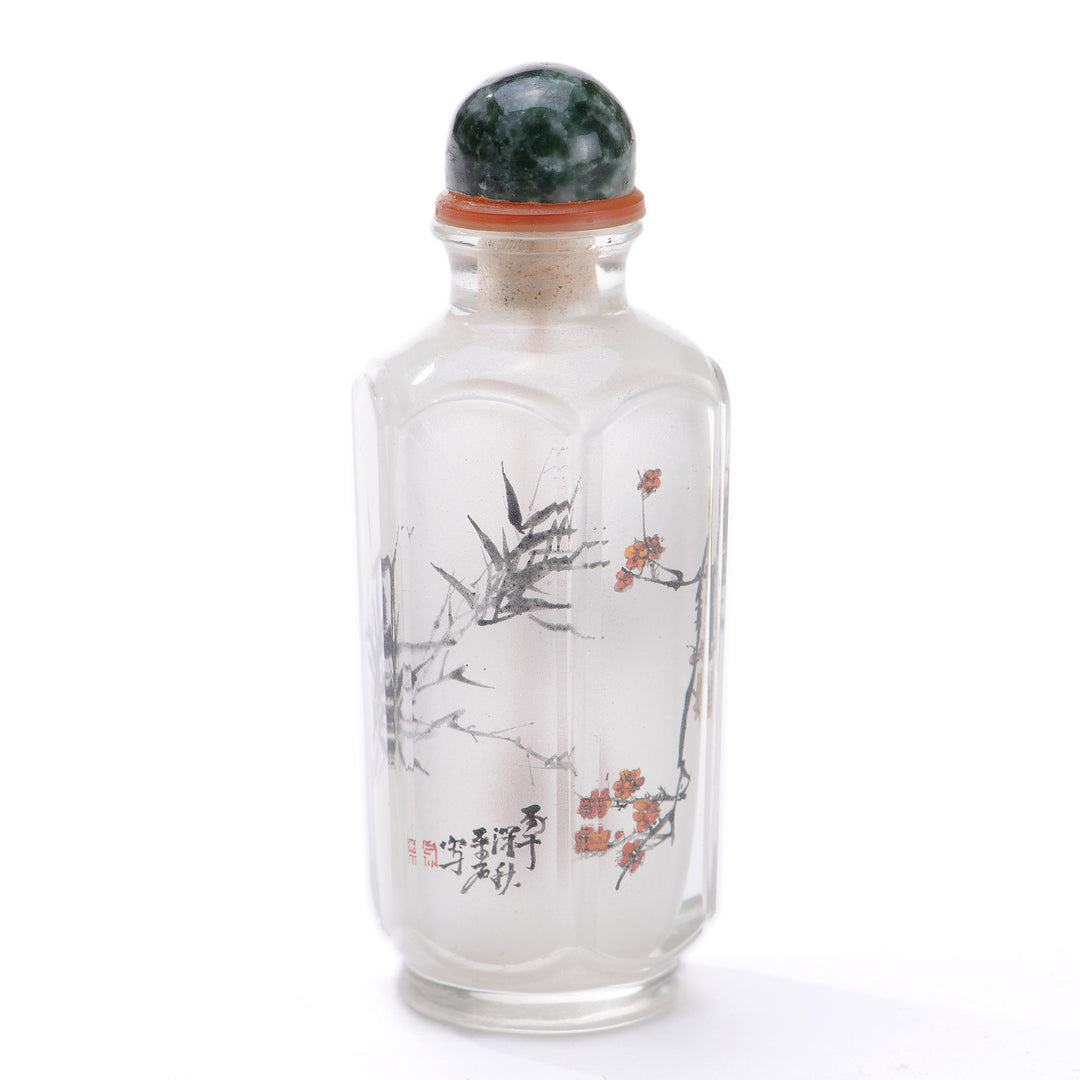 Unveiling a Masterpiece from the Late 19th Century

Behold the beauty of the Snuff Bottle Late 19th century, inside painted, artist signed MuJu. Immerse yourself in a world of exquisite artistry and craftsmanship that has withstood the test of time. This exceptional snuff bottle is a captivating testament to the artistic talent and cultural significance of the late 19th century.
A Harmonious Fusion of Art and Function
Indulge in the seamless blend of art and functionality with this remarkable snuff bottle. Crafted by the skilled hands of the artist MuJu, every brushstroke tells a story. The intricate inside-painted scene, delicately executed, transports you to a realm of beauty and serenity. The vibrant colors and meticulous details bring the artwork to life, showcasing the true mastery of the artist.
A Window into the Past
Transport yourself to an era long gone as you hold this snuff bottle in your hands. Each stroke on the inside-painted surface captures the essence of the late 19th century, offering a glimpse into the traditions and customs of that time. The artwork depicts scenes of daily life, mythical creatures, or breathtaking landscapes, immersing you in a rich cultural heritage. Owning this snuff bottle is like owning a piece of history itself.
Unlocking the World of Collectible Treasures
Welcome to the realm of art enthusiasts and collectors. The Snuff Bottle Late 19th century, inside painted, artist signed MuJu is a hidden gem eagerly waiting to be discovered. Delve into the allure of collecting as you explore the unique qualities that make this snuff bottle a must-have for any art connoisseur.
A Rare Find for Discerning Collectors
Step into the world of exclusivity with this rare and precious snuff bottle. The late 19th-century provenance enhances its desirability, as it represents a significant era in art history. Owning a piece that bears the signature of the esteemed artist MuJu adds an extra layer of prestige. This snuff bottle is more than just an object; it is a symbol of your refined taste and passion for art.
An Investment in Beauty and Value
Discover the potential for both aesthetic enjoyment and financial gain with this collectible snuff bottle. As time passes, its historical significance and artistic value will only grow, making it a sound investment for the future. Its rarity and artistic merit make it an enticing addition to any collection, destined to appreciate in value as it captivates the hearts of future generations.
Elevate Gifting to a New Level of Sophistication
Searching for a gift that speaks volumes about your impeccable taste? Look no further than the Snuff Bottle Late 19th century, inside painted, artist signed MuJu. This exquisite snuff bottle is an embodiment of elegance and refinement, making it the perfect choice for special occasions or a heartfelt gesture to a loved one.
A Unique Expression of Thoughtfulness
Surprise your loved ones with a gift that goes beyond the ordinary. The Snuff Bottle Late 19th century, inside painted, artist signed MuJu is a testament to your attention to detail and appreciation for fine art. Its beauty and historical significance make it a thoughtful gesture that will be cherished for a lifetime, evoking emotions and creating lasting memories.
A Timeless Treasure for Generations to Come
Gifts that transcend time and leave a lasting legacy are truly special. This snuff bottle carries the weight of history and the mark of a skilled artist, ensuring its timeless appeal. Whether it becomes a family heirloom or a cherished memento passed down through generations, this snuff bottle will continue to be a symbol of your enduring affection and thoughtfulness.
Dimensions: 1.25" x 1.25" x 3.25"
---