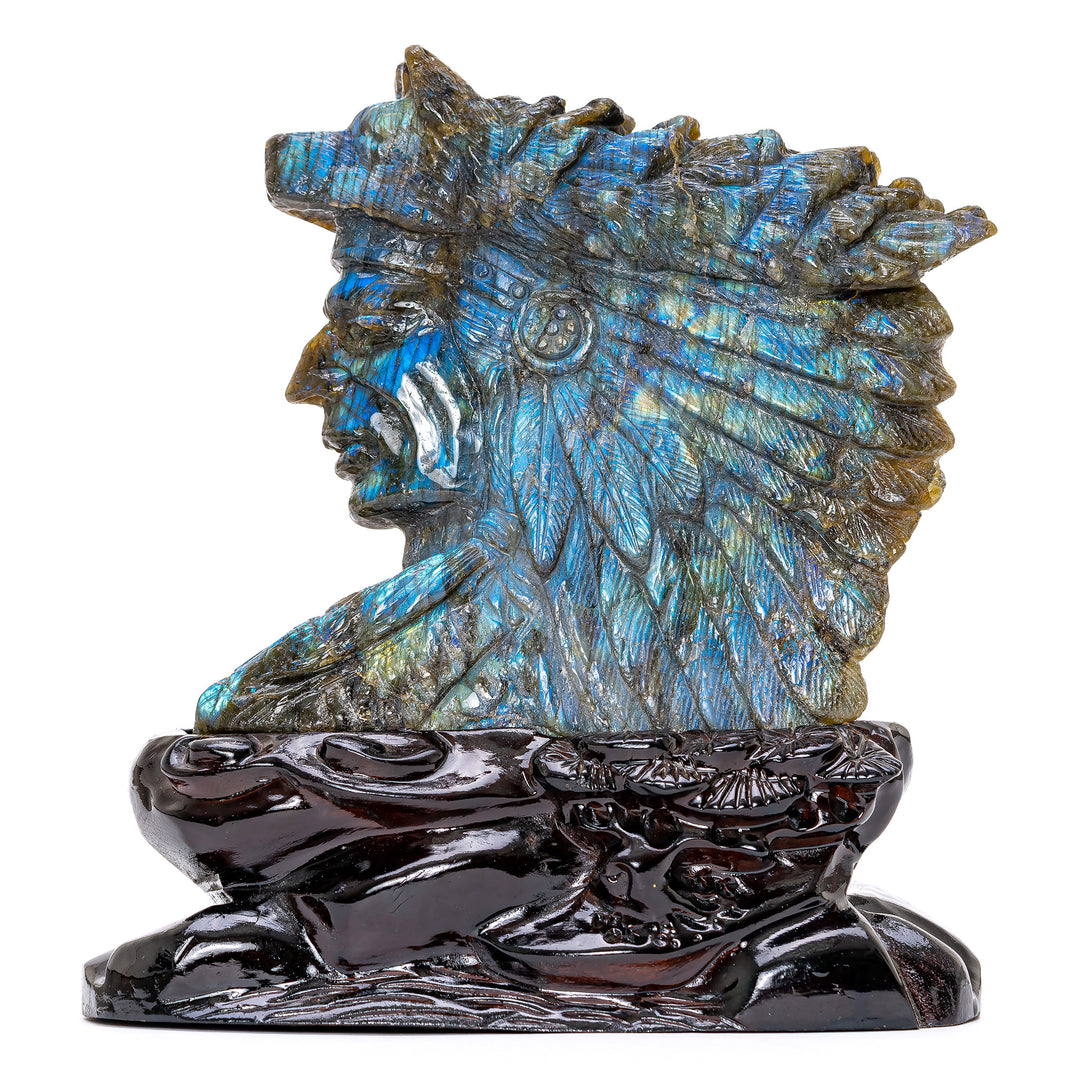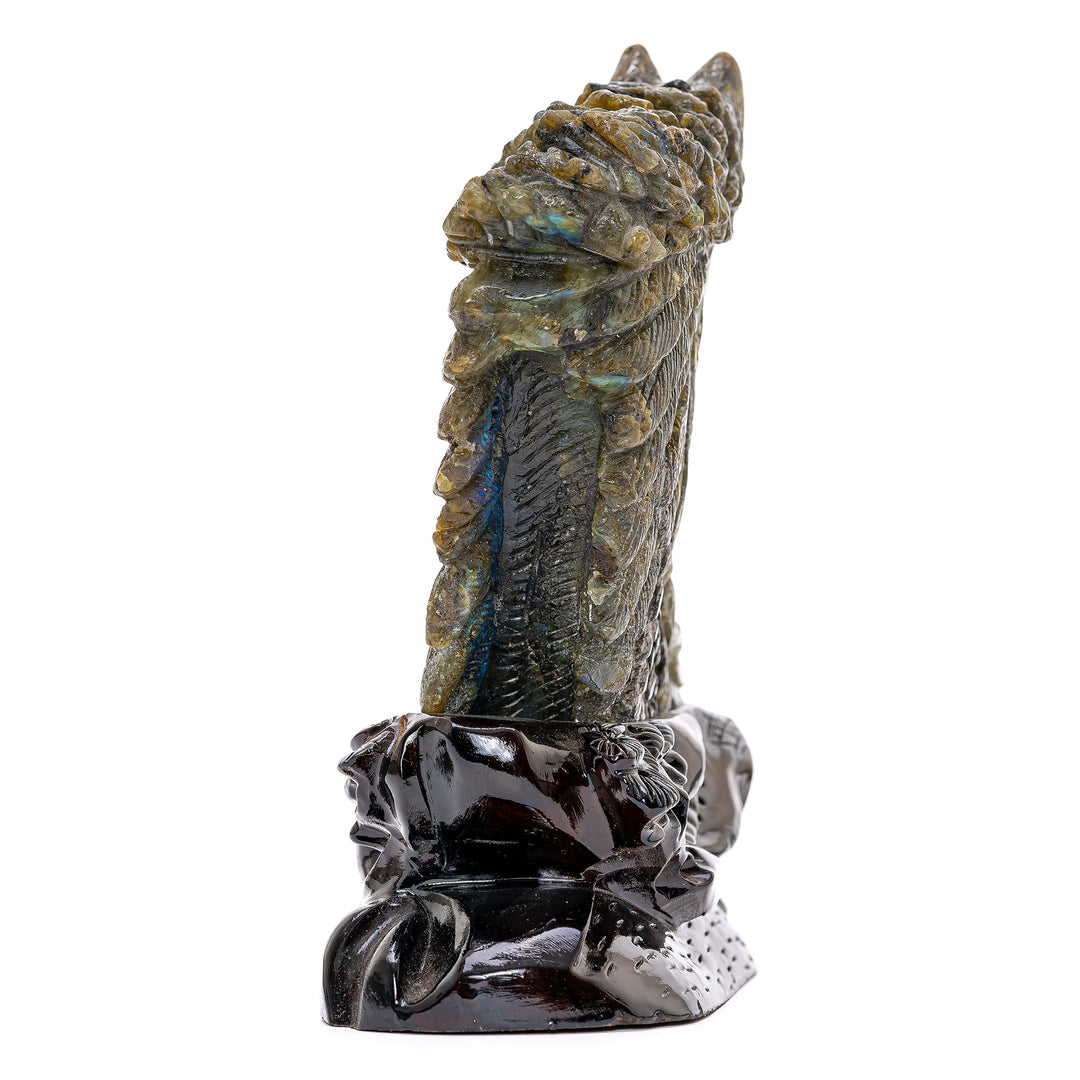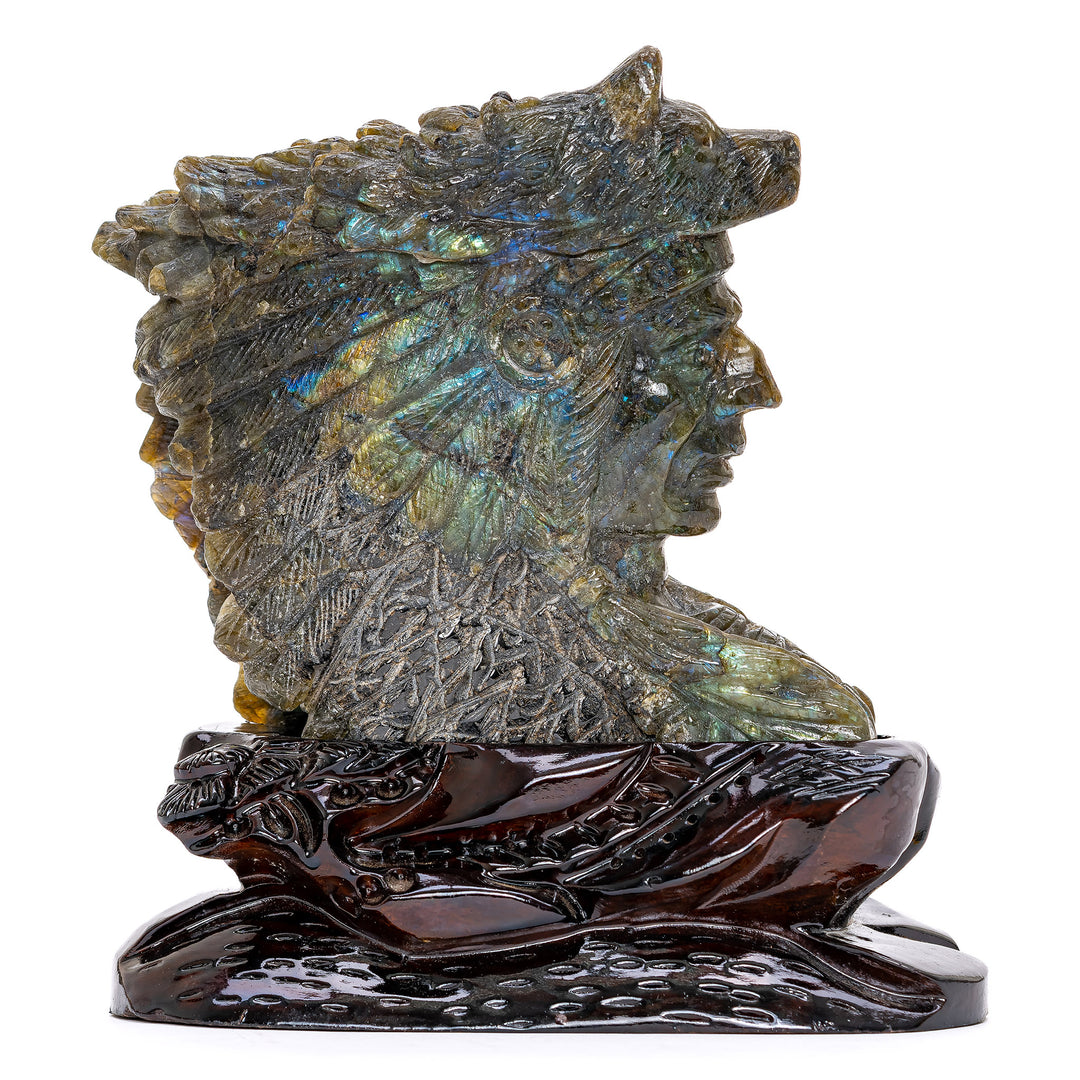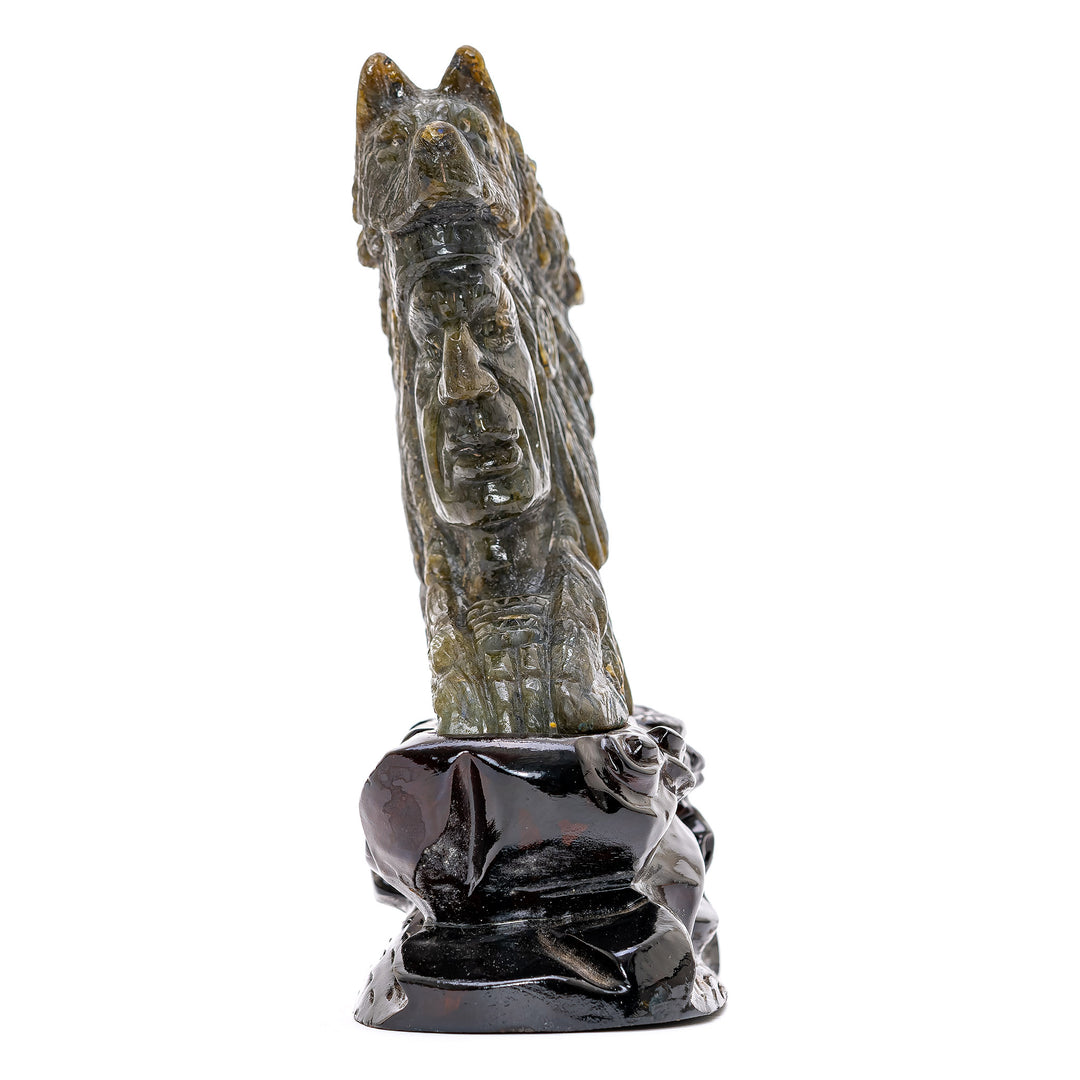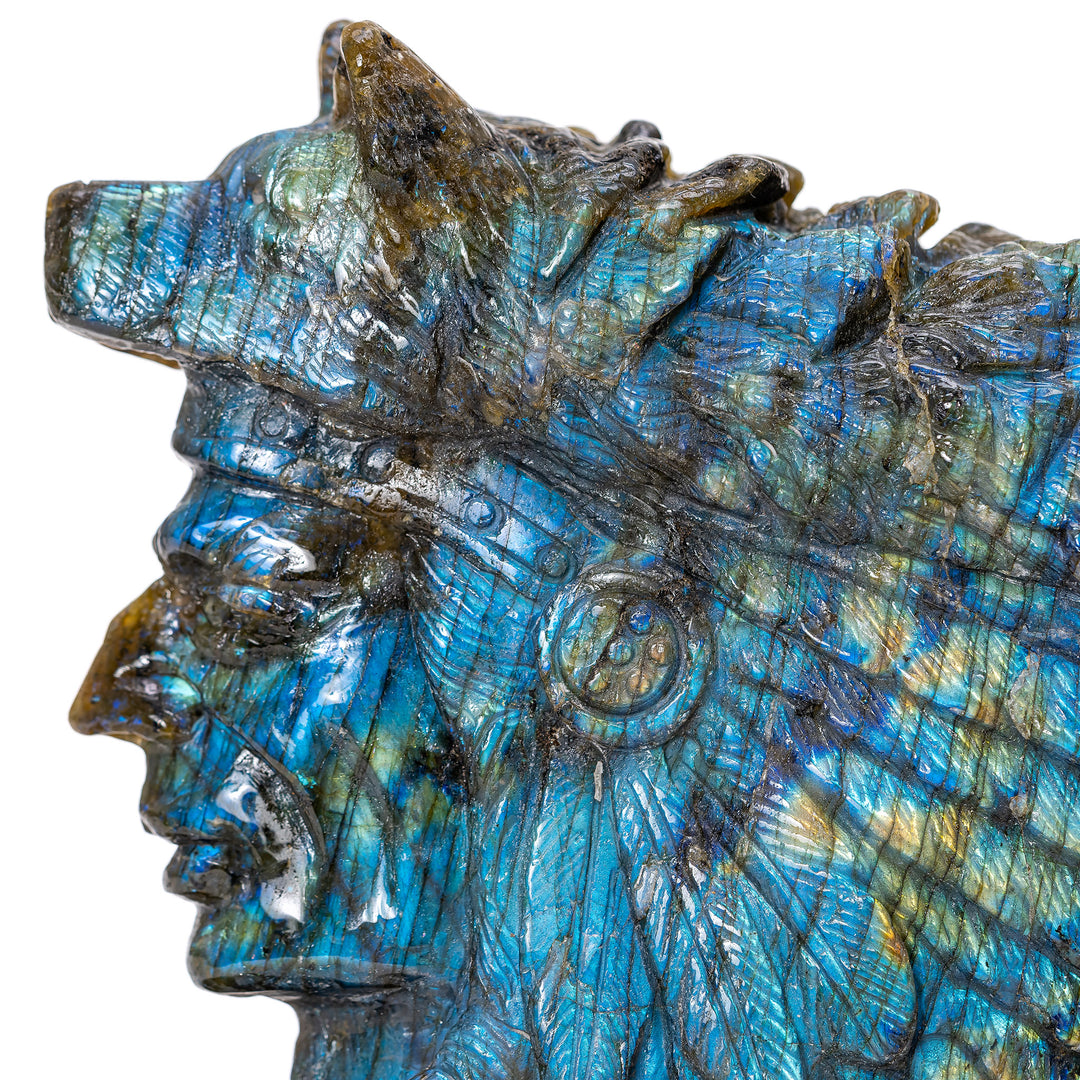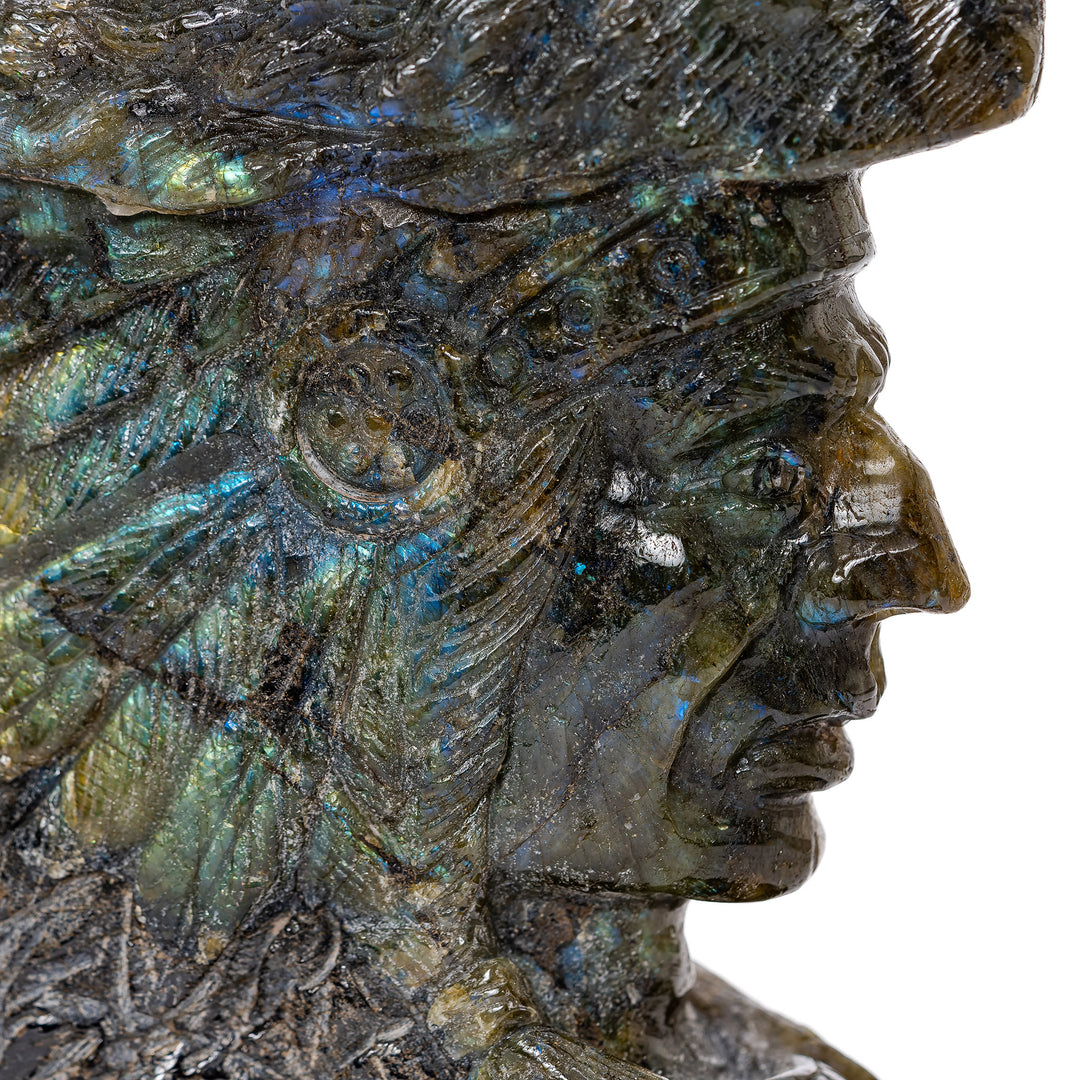 Labradorite Indian Bust
12349
Unveiling the Mystique: Labradorite Indian Bust
Behold the captivating allure of our Labradorite Indian Bust—a true masterpiece crafted with utmost precision and artistry. This extraordinary sculpture showcases the enchanting beauty of labradorite, a gemstone renowned for its mesmerizing play of colors. Our skilled artisans have expertly carved the majestic Indian chief head, adorned with a wolf head piece, to create a captivating centerpiece that will grace any space with its profound presence.
With its meticulous attention to detail and intricate design, this Labradorite Indian Bust is a testament to the artisan's skill and dedication. Each feature is carefully sculpted, capturing the noble expression of the Indian chief and the strength symbolized by the wolf. The fusion of labradorite's iridescent hues and the stoic representation of Native American culture creates a harmonious blend of elegance and spirituality.
A Stone of Mystical Brilliance: Labradorite
Labradorite, the gemstone that brings this Indian Bust to life, is renowned for its captivating play of colors. With its iridescent flashes of blue, green, gold, and purple, labradorite is often referred to as the "Stone of Magic" or the "Aurora Borealis Stone." As light interacts with the stone's internal structure, it reveals a kaleidoscope of vibrant hues, captivating the imagination and evoking a sense of wonder.
Legend has it that labradorite is a stone of transformation and protection, carrying the mystical energy of the Northern Lights within its depths. It is believed to enhance intuition, promote spiritual growth, and shield against negative energies. The ethereal beauty of labradorite resonates with those who seek to embrace their inner magic and embark on a journey of self-discovery.
A Symbol of Strength and Spirituality: Indian Chief and Wolf
The Indian chief holds a significant place in Native American culture, symbolizing leadership, wisdom, and courage. This Labradorite Indian Bust pays homage to the rich heritage and spiritual traditions of Native American tribes. The intricate carving captures the dignity and authority of the chief, reflecting the indomitable spirit that has guided generations.
The addition of the wolf head piece further enhances the symbolism of this masterpiece. Wolves are revered for their loyalty, instinct, and strong sense of community. They embody the power of unity and remind us to honor the interconnectedness of all living beings. The fusion of the Indian chief and wolf creates a profound representation of strength, resilience, and harmony with nature.
A Captivating Centerpiece for Your Home
Elevate the ambiance of your living space with the Labradorite Indian Bust, a true testament to the timeless beauty of art. This exquisite sculpture effortlessly blends artistry, spirituality, and natural wonder, making it a captivating centerpiece that will mesmerize your guests and inspire conversations.
Whether placed on a mantel, displayed on a shelf, or showcased in a curio cabinet, the Labradorite Indian Bust exudes an aura of grace and sophistication. Its striking colors, intricate details, and symbolic representation make it an extraordinary addition to any home decor.
Harnessing the Power of Labradorite
Immerse yourself in the mystical energy of labradorite with this remarkable Indian Bust. As the light dances across the gemstone's surface, it creates a captivating spectacle that soothes the senses and uplifts the spirit. Labradorite is believed to possess metaphysical properties that promote balance, intuition, and spiritual growthwhile shielding against negative energies. By incorporating this Labradorite Indian Bust into your living space, you invite the harmonizing and transformative energy of labradorite, creating a sanctuary of serenity and enlightenment.
Unleash Your Inner Aesthete
Experience the joy of owning a truly unique piece of art that celebrates the beauty of both nature and human creativity. The Labradorite Indian Bust effortlessly combines the mystique of labradorite with the craftsmanship of skilled artisans. Its presence will not only captivate the eye but also evoke a sense of wonder and appreciation for the profound beauty that exists in the world.
Allow this remarkable sculpture to become a reflection of your own refined taste and appreciation for art. Its elegance and timeless allure will enhance any interior, making it an ideal addition to art collectors, enthusiasts, or anyone seeking to infuse their space with a touch of sophistication.
A Treasure Beyond Compare
Looking for a truly extraordinary gift that will leave a lasting impression? The Labradorite Indian Bust is a perfect choice. It embodies the fusion of art, spirituality, and cultural symbolism, making it a unique and meaningful present for special occasions, celebrations, or milestones.
Whether you're honoring a loved one's achievements, expressing gratitude, or simply seeking to make a statement, this Labradorite Indian Bust will convey your sentiments with unparalleled grace. Its inherent symbolism of strength, wisdom, and unity resonates with the recipient, reminding them of their own resilience and the power of their spirit.
An Heirloom for Generations
Invest in a legacy piece that transcends time. The Labradorite Indian Bust is not merely a decorative item; it is a testament to the artistry and craftsmanship of its creators. Its enduring beauty and symbolism ensure that it will be cherished not only in the present but also by future generations.
Imagine the joy of passing down this extraordinary sculpture as a treasured heirloom, accompanied by the stories of its origins and the significance it holds. By gifting the Labradorite Indian Bust, you are bestowing not only a beautiful work of art but also a piece of history and heritage that will be revered for years to come.
Dimensions: 3" x 7.5" x 8.5"

---