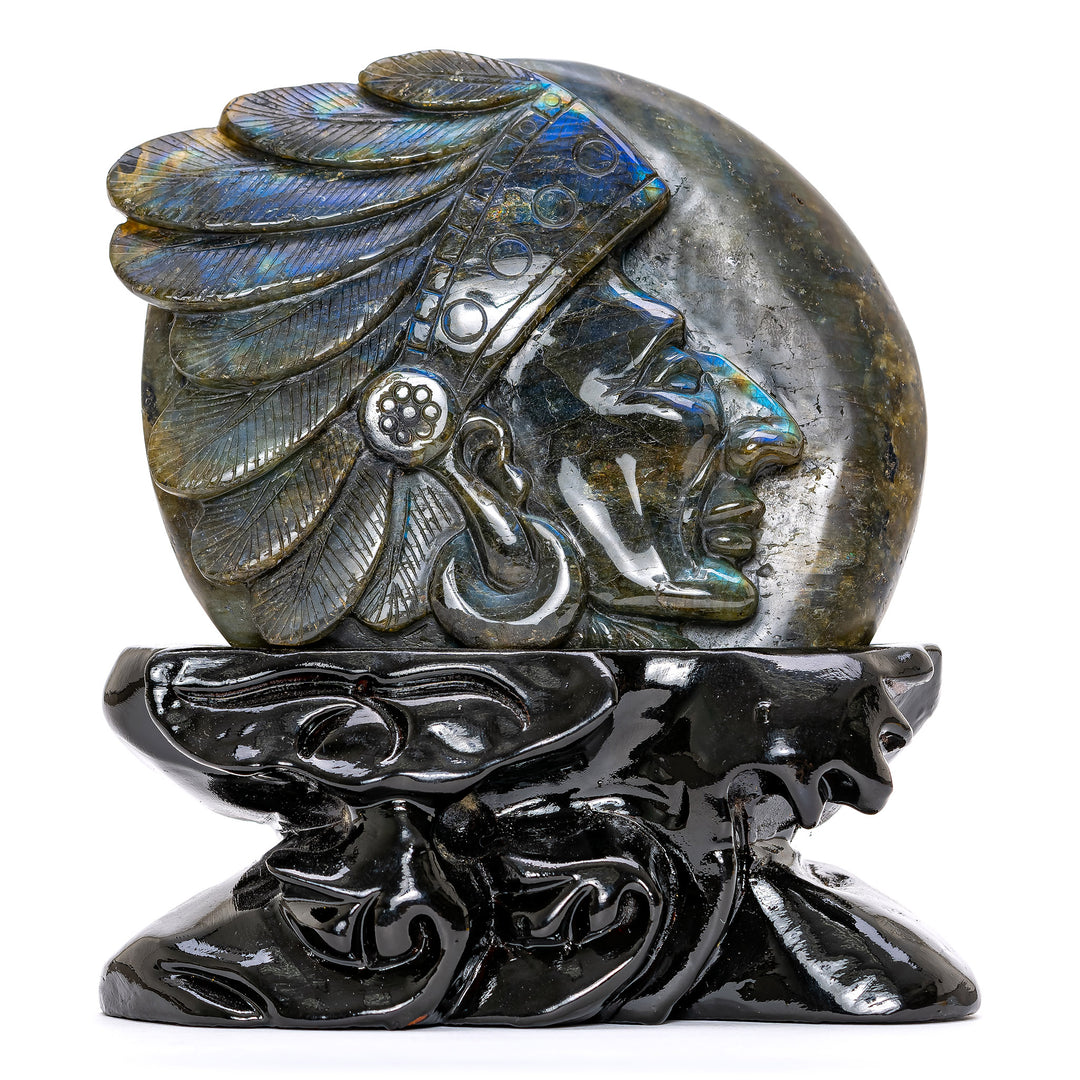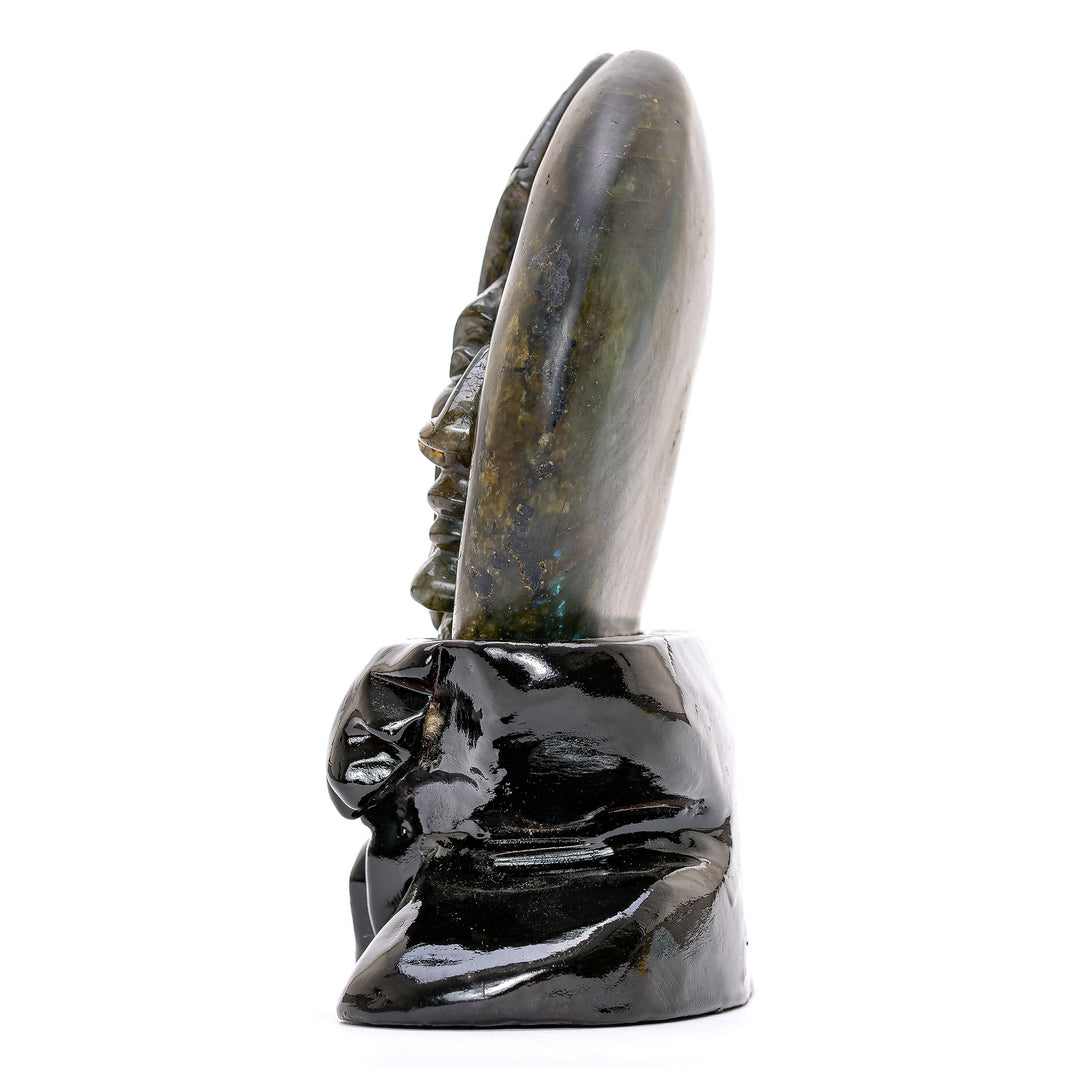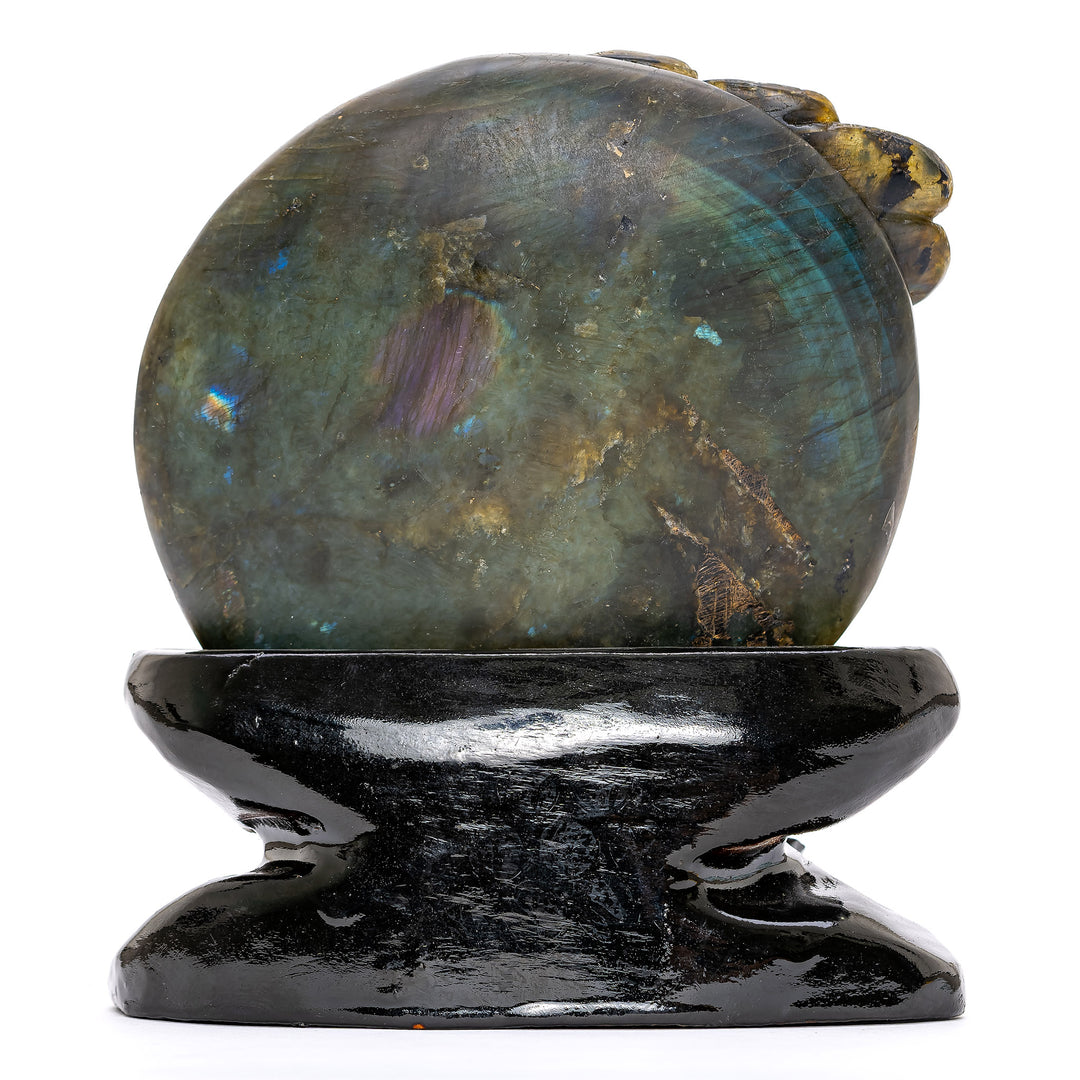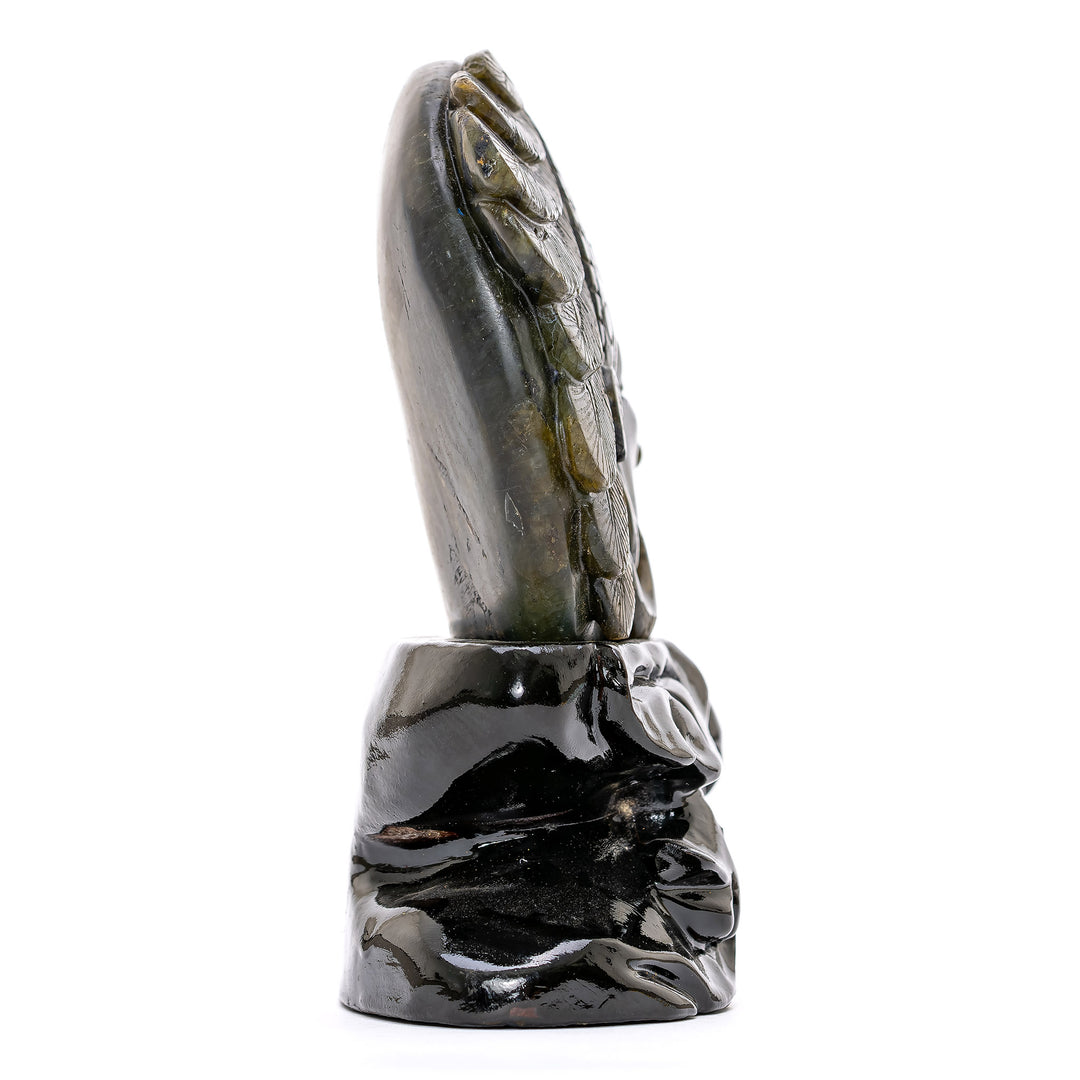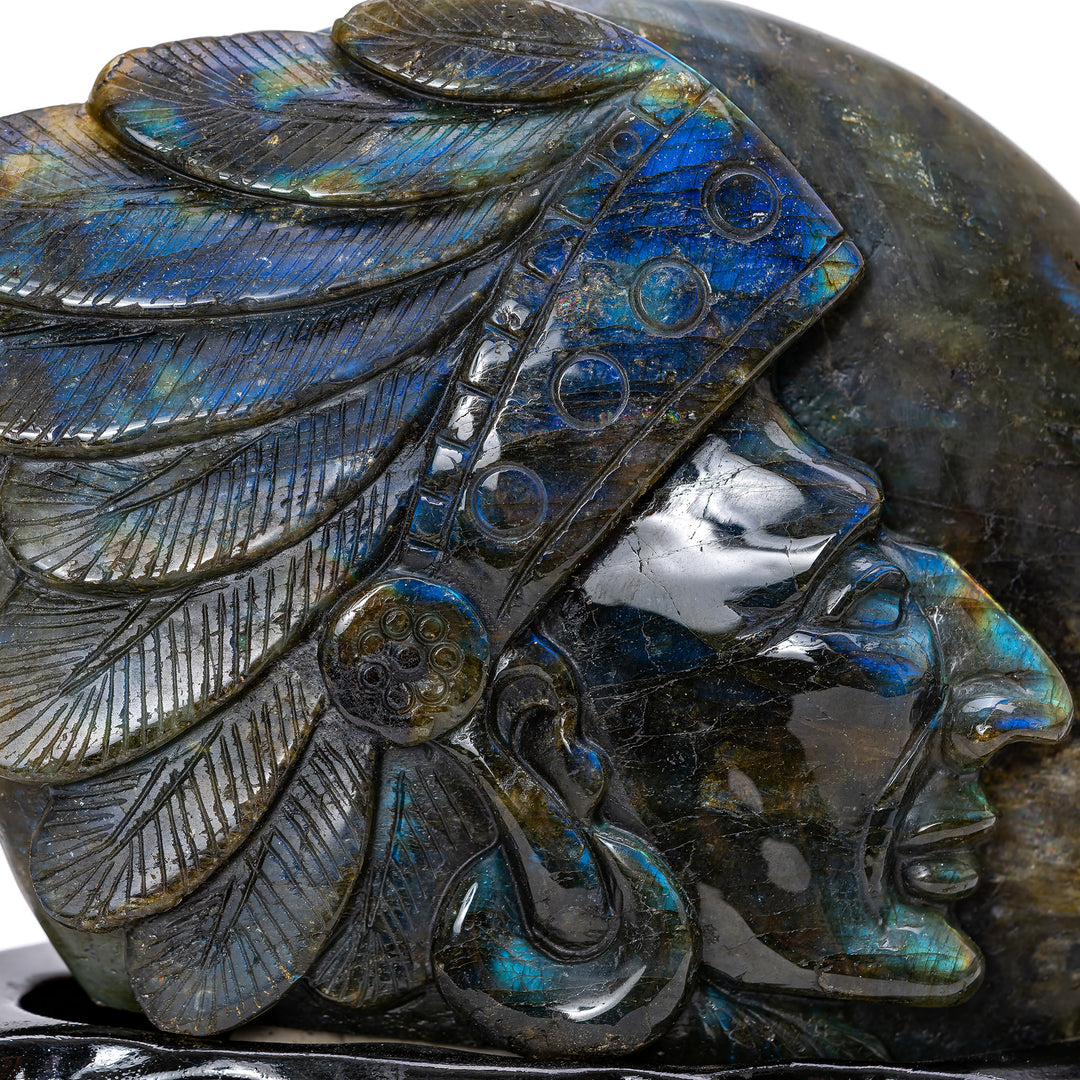 Labradorite Chief with Headdress
10334
Unleash the enchanting allure of the Labradorite Chief with Headdress sculpture, meticulously hand-carved to perfection. Crafted from the opal family's mesmerizing gemstone, this extraordinary artwork captures the essence of both elegance and strength.

Discover the Opal-like Magic
Witness the captivating play of colors as light dances across the Labradorite's surface. With its ethereal iridescence, this sculpture exhibits a stunning range of hues, from deep blues and vivid greens to fiery golds and passionate purples. Each glance reveals a new facet of its mystical charm, leaving you spellbound and captivated.
An Emblem of Transformation
Labradorite is renowned for its metaphysical properties, believed to possess mystical energies that encourage self-discovery and spiritual growth. Displaying the Labradorite Chief with Headdress sculpture in your space invites positive transformation and serves as a constant reminder of the limitless potential within you.
Hand-Carved Artistry
Expertly crafted by skilled artisans, this sculpture showcases exceptional attention to detail. Every intricate line and contour brings the majestic chief and his headdress to life, conveying a sense of wisdom, authority, and reverence. Each stroke of the carver's chisel captures the rich heritage and cultural significance embodied by this magnificent piece.
Immerse yourself in the symbolic narrative of the Labradorite Chief with Headdress sculpture, as it pays homage to the timeless traditions of indigenous cultures and celebrates the spirit of leadership.
Radiating Power and Authority
The Labradorite Chief, with his stern yet noble expression, exudes an aura of command and respect. Adorned with a meticulously crafted headdress symbolizing bravery and wisdom, this sculpture serves as a potent emblem of leadership, inspiring those who encounter it to embrace their own inner strength and guidance.
An Artistic Tapestry of Cultures
The intricate details of the headdress pay homage to the artistic traditions of indigenous cultures, weaving together intricate patterns and symbols that reflect their profound wisdom and heritage. Owning this sculpture allows you to connect with these ancestral roots, inviting a sense of cultural appreciation and fostering a deeper understanding of diverse traditions.
Elevate Your Space with Grace
The Labradorite Chief with Headdress sculpture is a statement piece that effortlessly elevates any interior. Whether displayed on a mantel, a bookshelf, or as a centerpiece, its commanding presence transforms any space into a gallery of elegance and cultural reverence. Let its radiant beauty and profound symbolism become a captivating conversation starter in your home or office.
An Enchanting Legacy
The Labradorite Chief with Headdress sculpture is not merely an artwork but a cherished heirloom that transcends time. Its timeless appeal and enduring quality make it a worthwhile investment that can be passed down through generations, preserving its beauty and significance for years to come. Owning this extraordinary piece grants you the privilege of becoming a custodian of cultural heritage and artistic excellence.
A Gift of Distinction
Searching for a unique and meaningful gift that will leave a lasting impression? Look no further. The Labradorite Chief with Headdress sculpture is an extraordinary present that combines artistry, symbolism, and the allure of precious gemstones. Whether for a milestone celebration, a special occasion, orsimply to express appreciation, this sculpture will make a profound and unforgettable gift, embodying the essence of beauty, culture, and significance.
Transform Your Surroundings
Invite the transformative power of the Labradorite Chief with Headdress sculpture into your life and witness the impact it has on your surroundings. Its captivating presence and the aura of mystique it emanates create a harmonious atmosphere, fostering inspiration, introspection, and a sense of connection to something greater than ourselves. Let this remarkable sculpture be the catalyst for positive change and personal growth.
Dimensions: 2.5" x 5.5" x 6.5"
---