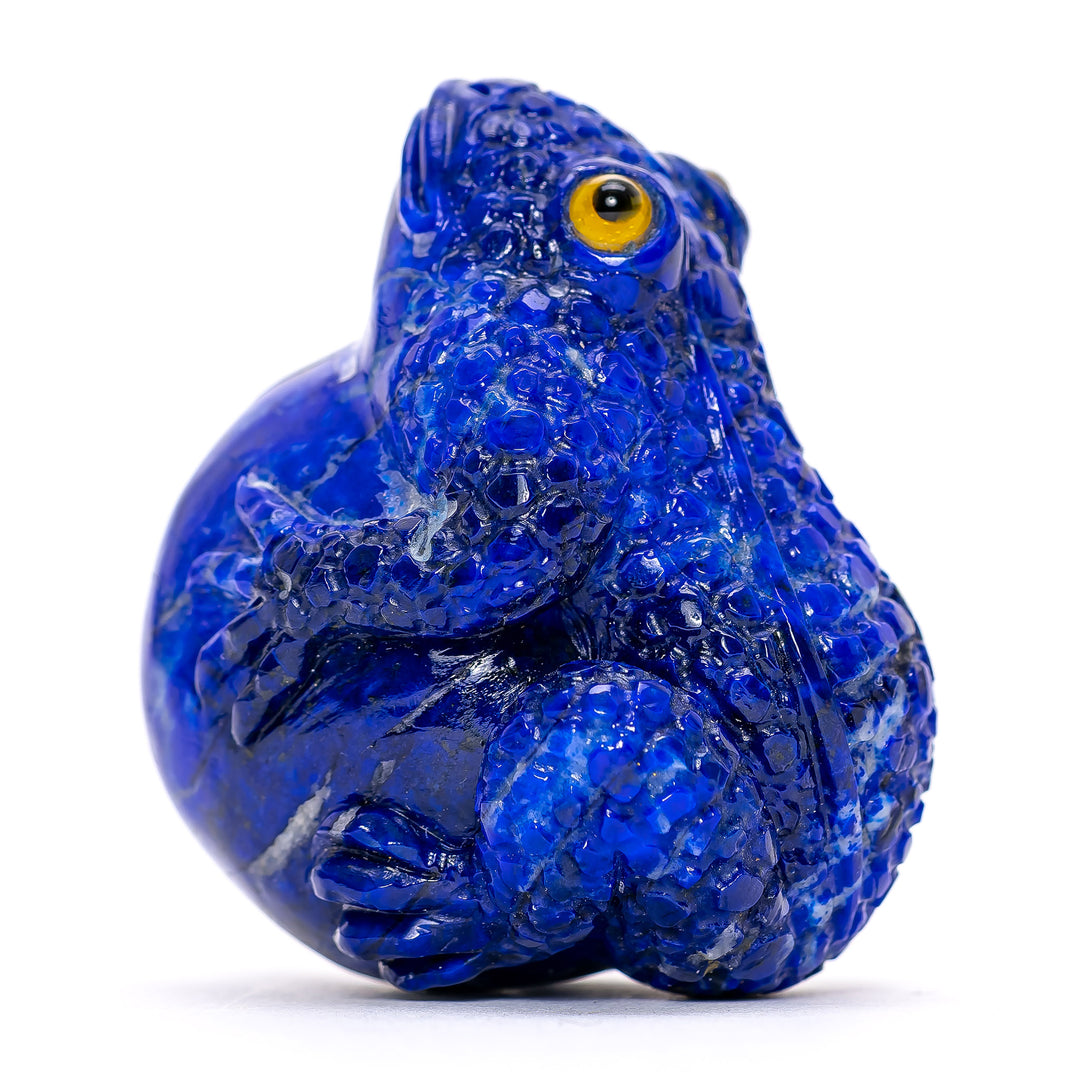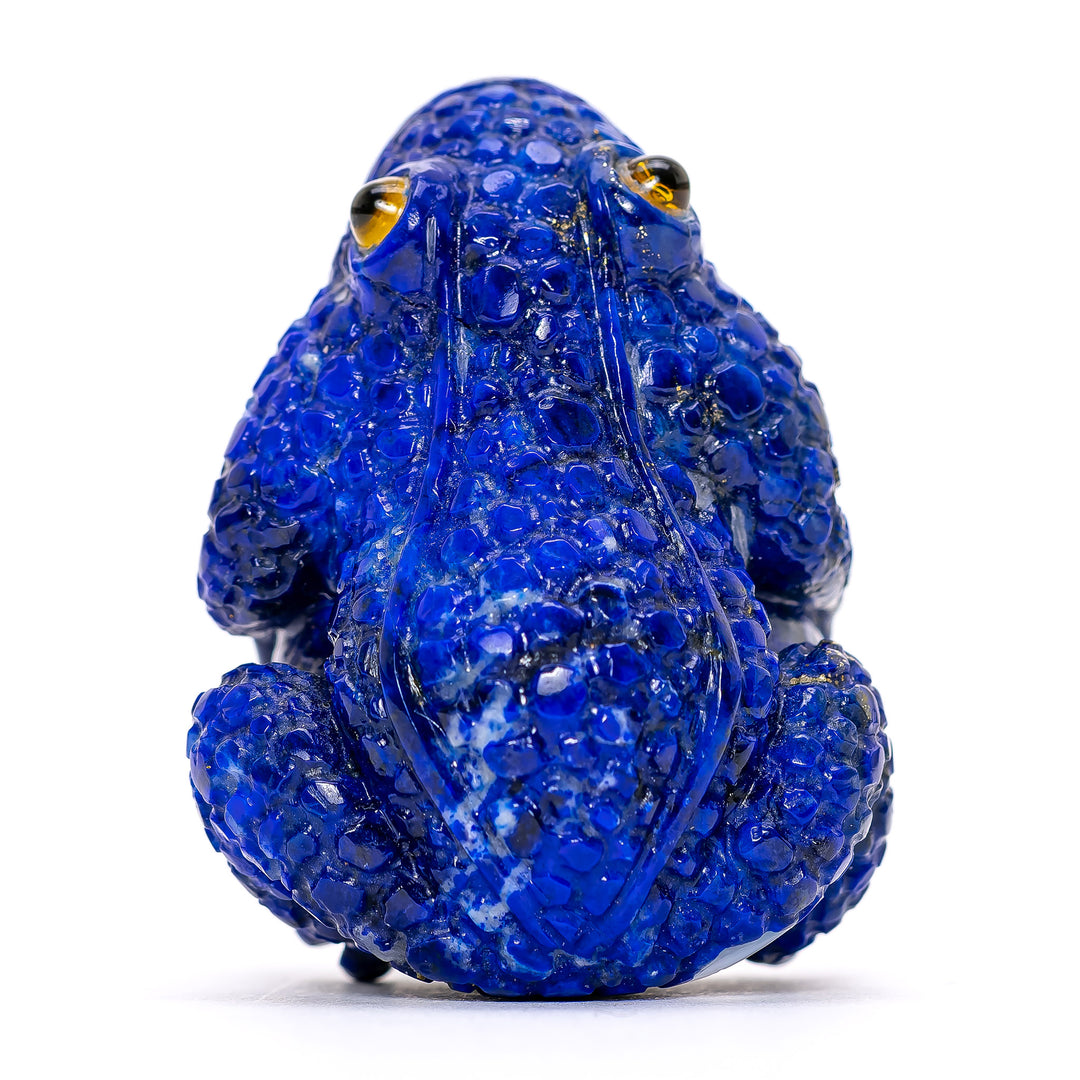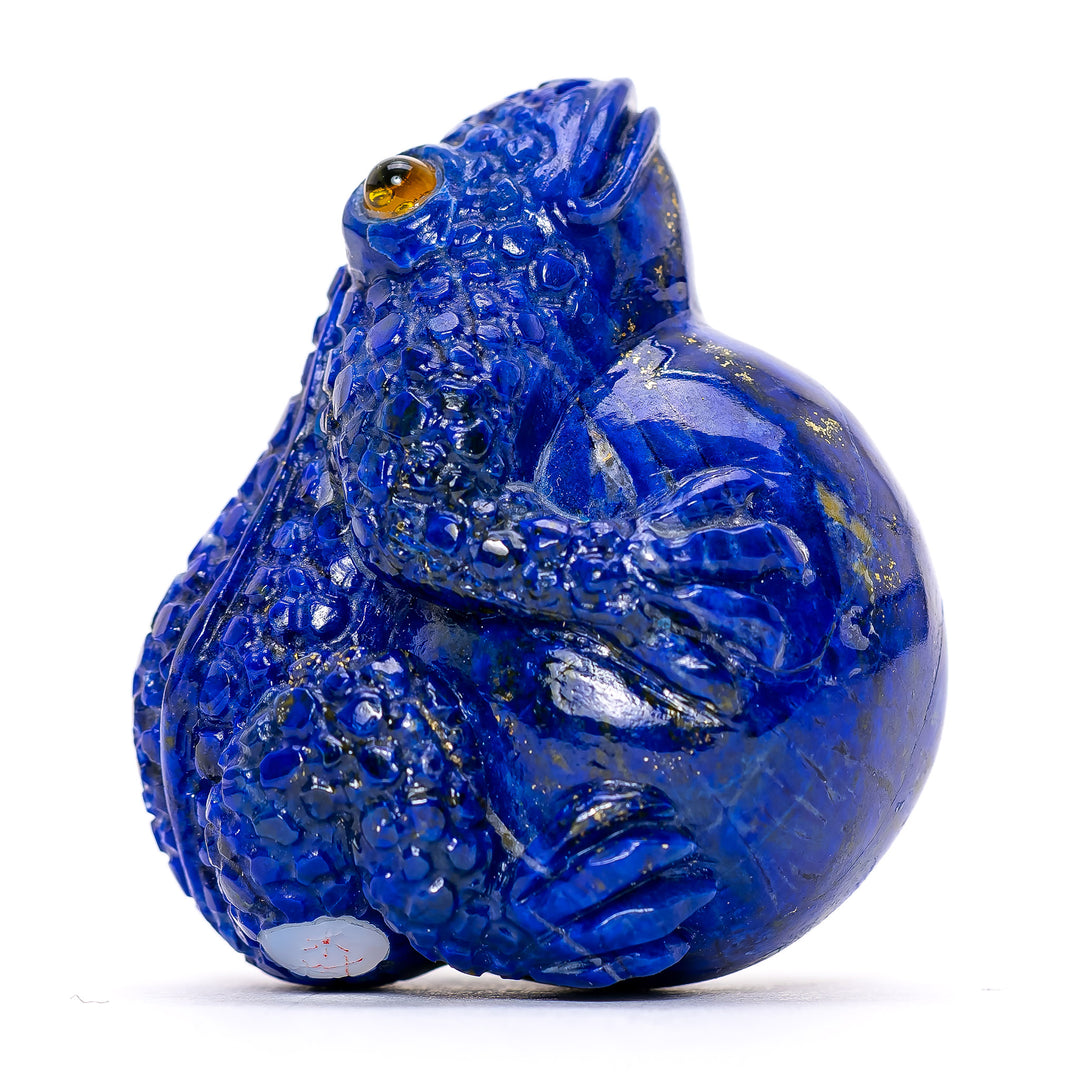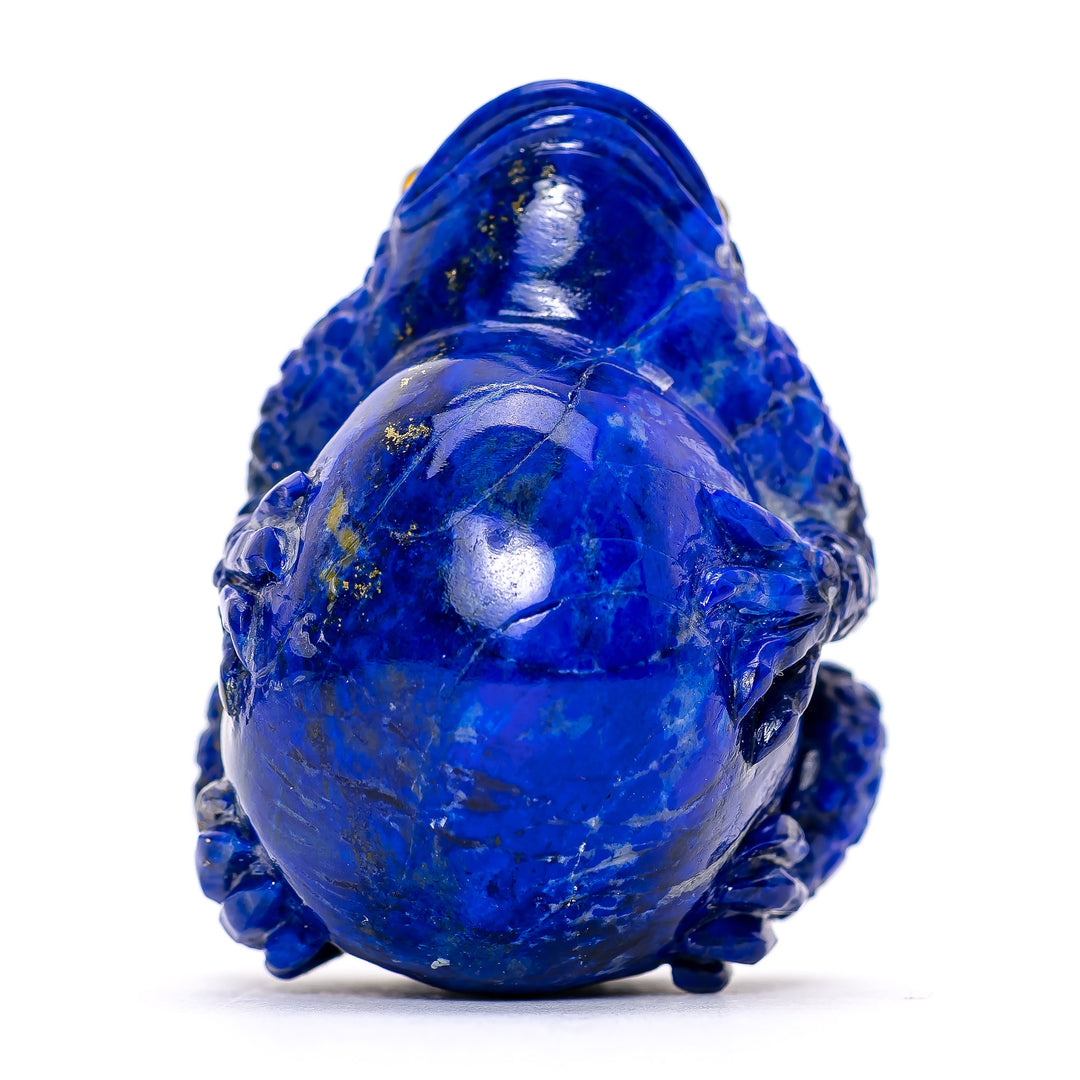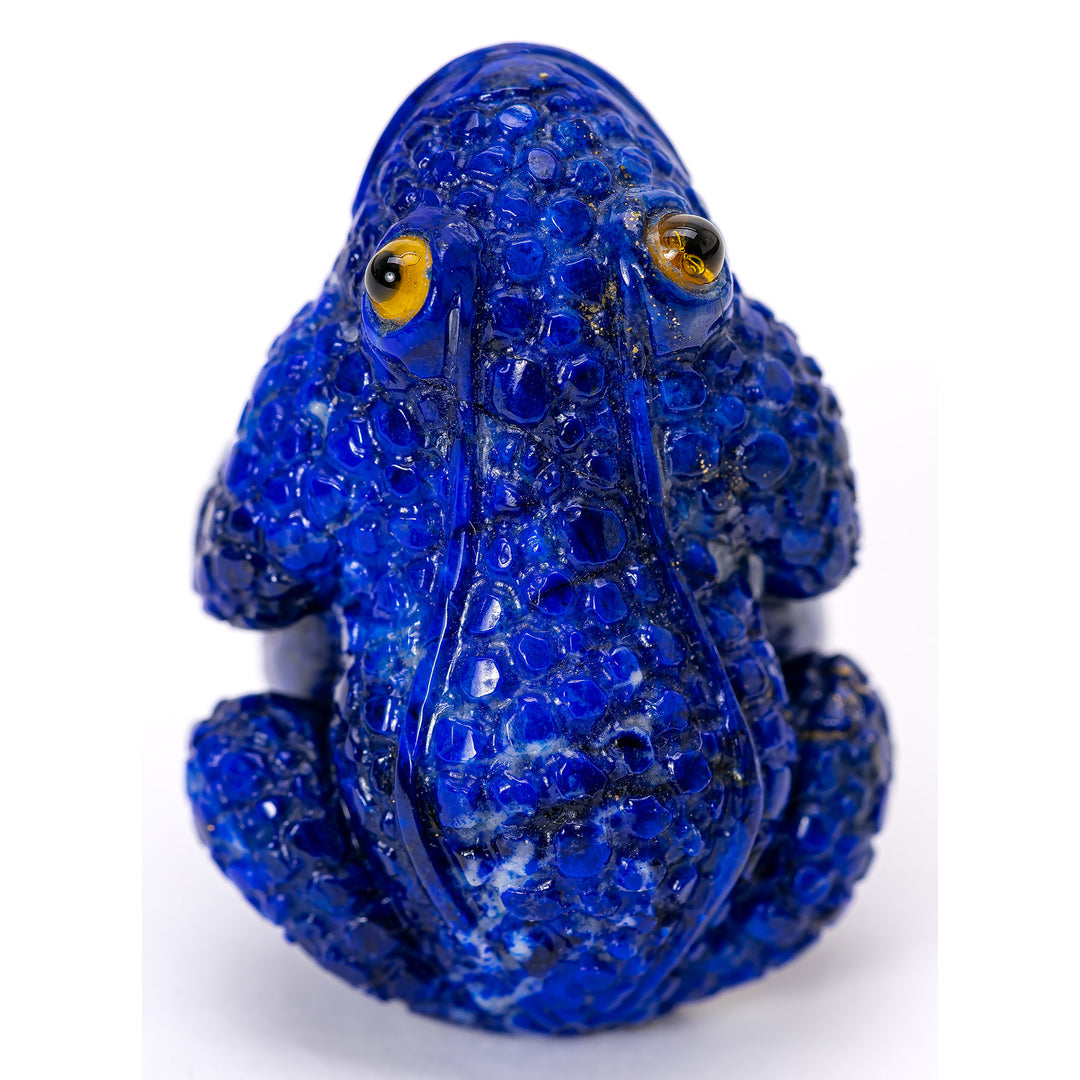 Genuine Lapis Bullfrog
17035
Exquisite Craftsmanship and Attention to Detail
Uncover the Magic of the Genuine Lapis Bullfrog Sculpture
Step into a world of enchantment with our exquisite Genuine Lapis Bullfrog Miniature sculpture. Meticulously crafted by skilled artisans, this unique piece captures the essence of elegance and nature's beauty. Let us take you on a journey of wonder as we explore the captivating features of this remarkable creation.
A Prismatic Masterpiece
Behold the striking allure of the Genuine Lapis Bullfrog Sculpture. Each sculpture is expertly carved from genuine lapis lazuli, a rare gemstone renowned for its deep blue hues. The smooth surface of the sculpture reflects light like a shimmering pond, creating a mesmerizing play of colors that will captivate any observer.
Lifelike Precision
Our artisans have spared no effort in ensuring that every detail of this bullfrog sculpture is a true work of art. From the intricate webbing on its limbs to the delicate curves of its body, the lifelike precision of this piece is truly remarkable. The meticulous attention to detail showcases the talent and dedication of our artisans, making this sculpture a testament to their skill and passion.
A Symbol of Prosperity and Transformation
In many cultures, the bullfrog is a symbol of prosperity and transformation. Its ability to adapt and thrive in various environments represents resilience and growth. By owning this Genuine Lapis Bullfrog Sculpture, you invite these qualities into your life, creating an aura of positivity and abundance. Let this magnificent creature serve as a reminder of the limitless possibilities that lie ahead.
The Perfect Statement Piece for Your Home
Elevate Your Decor with the Genuine Lapis Bullfrog Sculpture
Transform your living space into a haven of sophistication with our Genuine Lapis Bullfrog Miniature sculpture. This remarkable piece is not just a work of art but a statement that speaks volumes about your refined taste and appreciation for the finer things in life. Discover how this sculpture can breathe new life into your home.
A Captivating Focal Point
Looking to add a touch of elegance to your interior? The Genuine Lapis Bullfrog Sculpture is the answer. Its commanding presence and distinct aesthetic make it the perfect focal point for any room. Whether placed on a mantel, displayed on a bookshelf, or adorning a coffee table, this sculpture will effortlessly draw the eyes of your guests and spark conversations.
Harmonizing Nature and Design
Nature-inspired decor is an evergreen trend, and this bullfrog sculpture beautifully captures the essence of the natural world. The deep blue lapis lazuli harmonizes with a variety of color palettes, while the intricate details of the sculpture add a touch of organic charm. Embrace the tranquil energy of nature and create a serene ambiance in your home.
Handcrafted Excellence
Each Genuine Lapis Bullfrog Sculpture is a testament to the dedication and skill of our artisans. Handcrafted with meticulous care, this sculpture embodies the highest standards of craftsmanship. The use of premium materials ensures its longevity, allowing you to enjoy its beauty for years to come. Invest in a piece that is not only visually stunning but also a testament to the value of true artistry.
Unforgettable Gifts for Special Occasions
Give the Gift of Enduring Beauty with the Genuine Lapis Bullfrog Sculpture
Searching for a gift that will leave a lasting impression? Look no further than our Genuine Lapis Bullfrog Miniature sculpture. This exquisite piece is not just a present but a symbol of love, appreciation, and timeless beauty. Discover why it is the perfect choice for special occasions.
An Unforgettable Gesture
When it comes to expressing your deepest emotions, words often fall short. That's where the Genuine Lapis Bullfrog Sculpture comes in. As a gift, it transcends the ordinary, speaking volumes about your thoughtfulness and the significance of the relationship. Whether it's for a birthday, anniversary, or any milestone event, this sculpture is a unique and unforgettable gesture that will be cherished forever.
A Treasure to Pass Down
Great gifts are not only enjoyed in the present but also become cherished heirlooms for future generations. Crafted with utmost care and using the finest materials, this bullfrog sculpture is designed to withstand the test of time. By gifting it, you create a legacy, passing on a piece of art that will be treasured by your loved ones and serve as a timeless reminder of your enduring bond.
The Beauty of Versatility
The Genuine Lapis Bullfrog Sculpture effortlessly complements any decor style, making it a versatile gift choice. Whether it finds its place in a contemporary living room, a traditional study, or a minimalist bedroom, its elegance and grace will enhance the aesthetic of any space. Give a gift that can seamlessly fit into any environment, bringing joy and beauty wherever it goes.
Dimensions: 1.5" x 1.5" x 2"
---