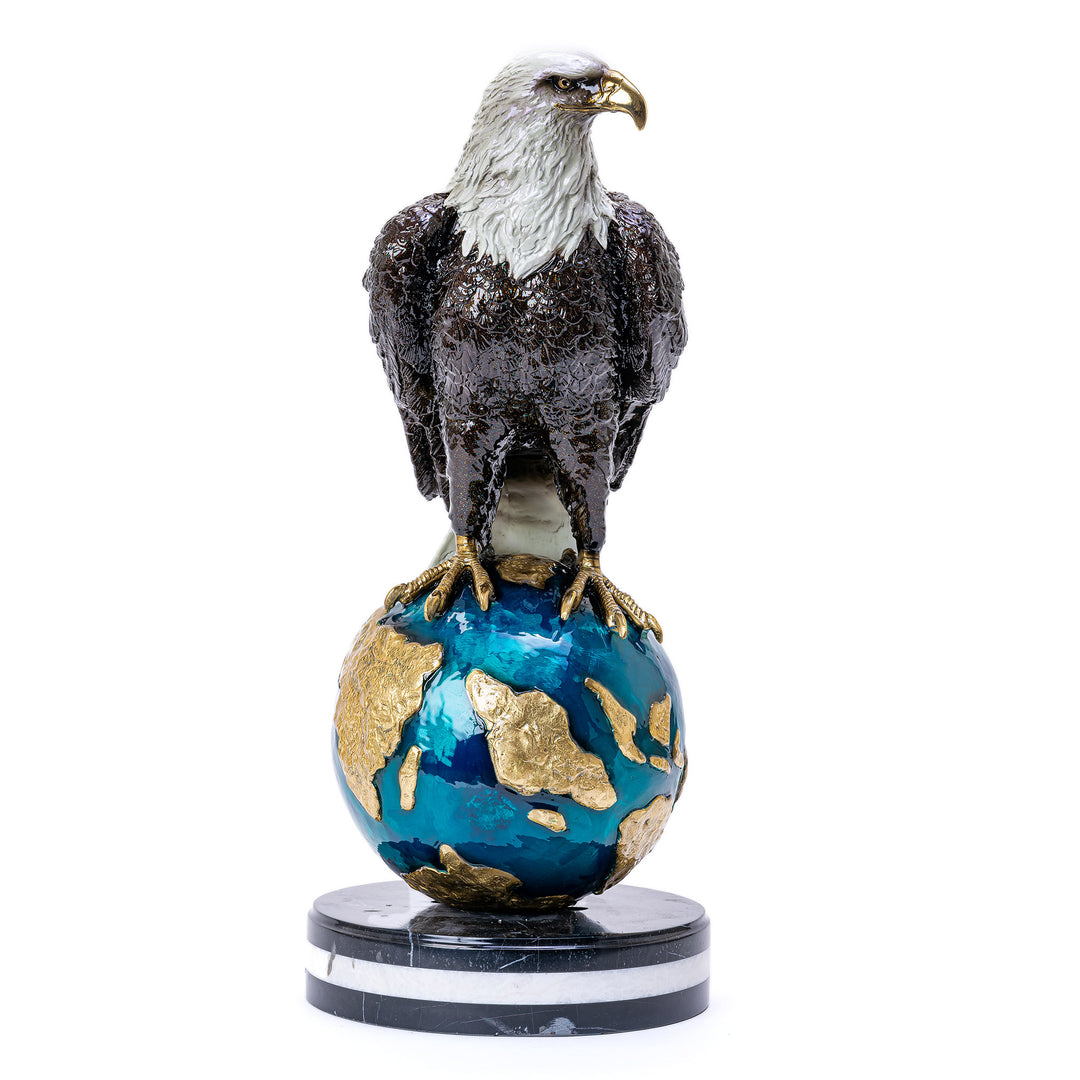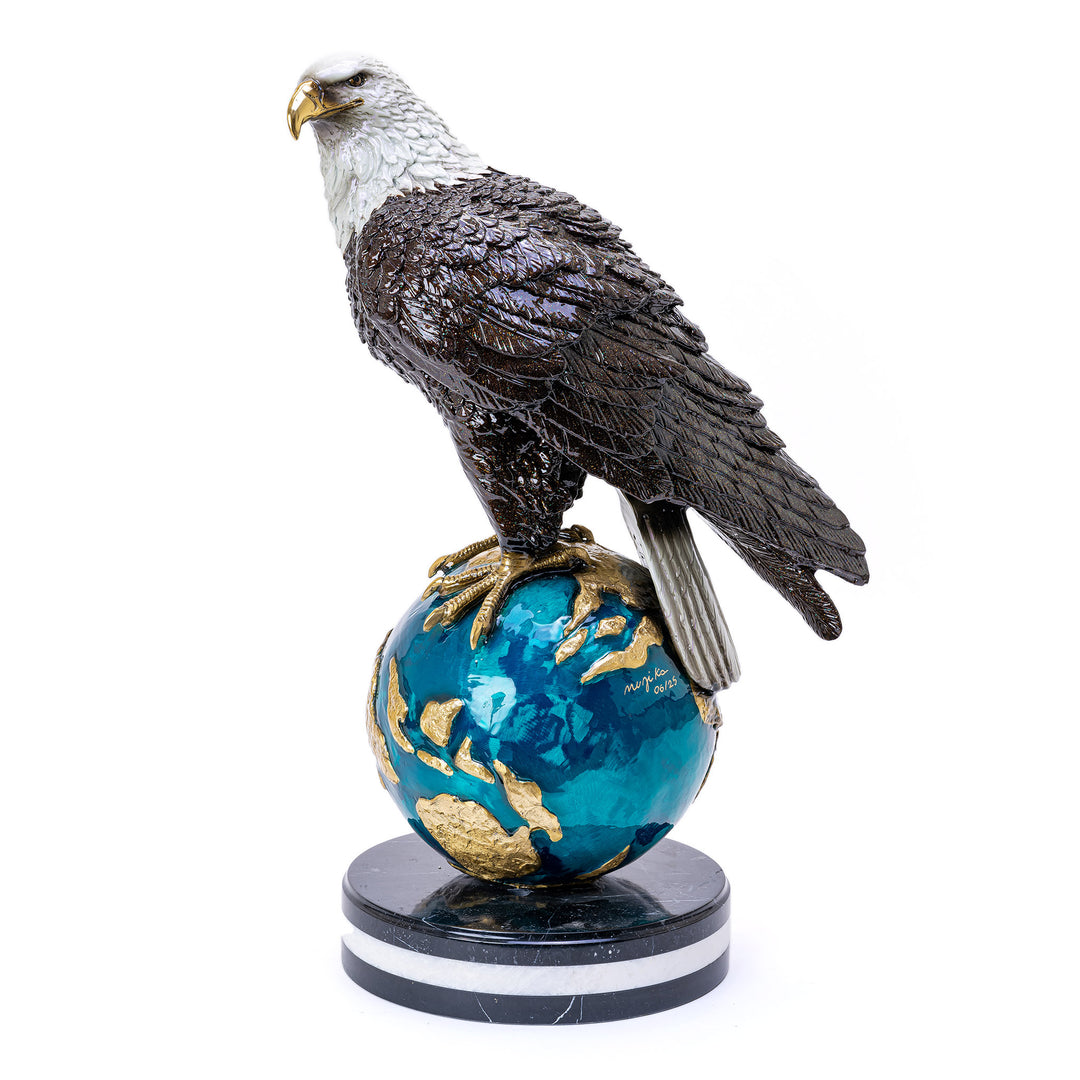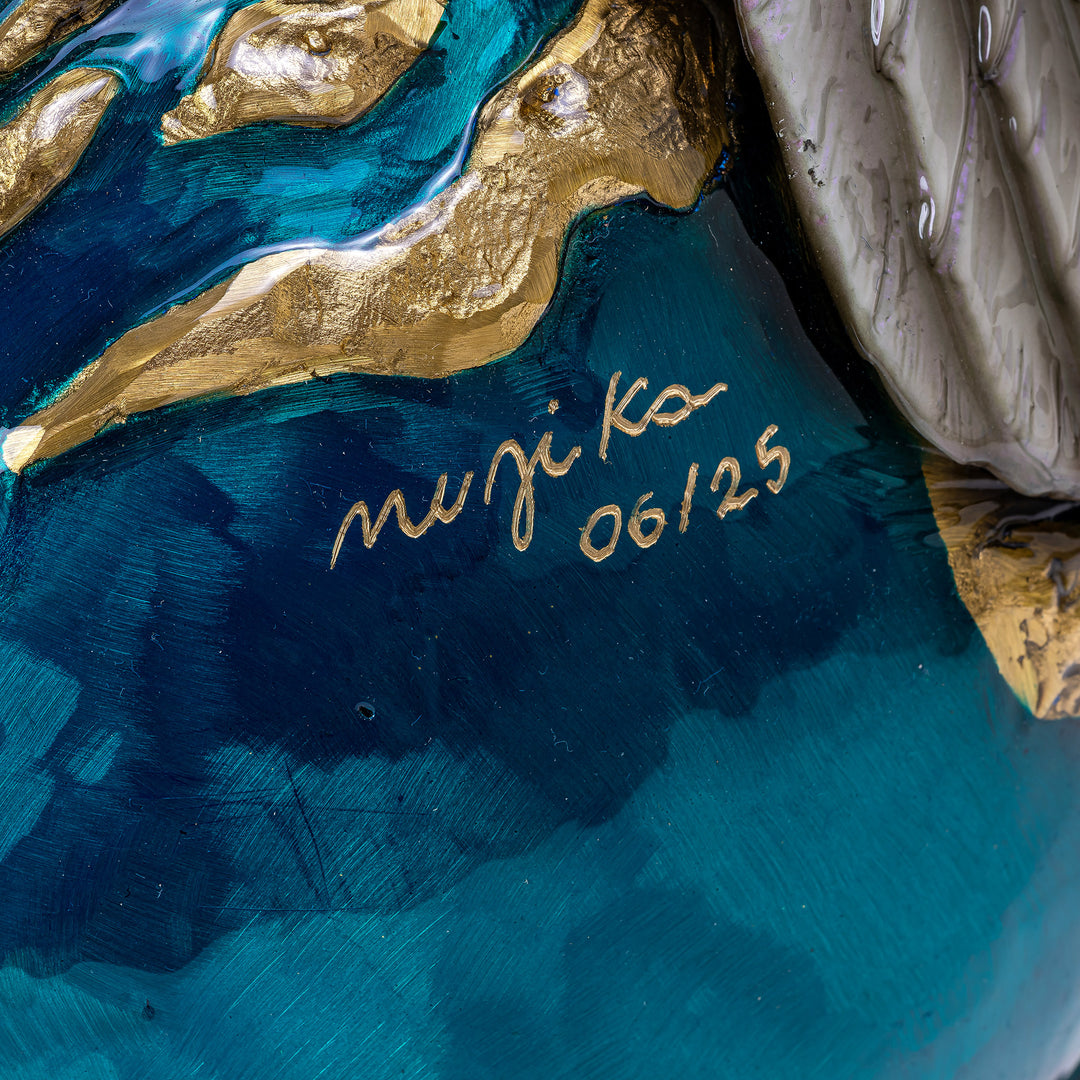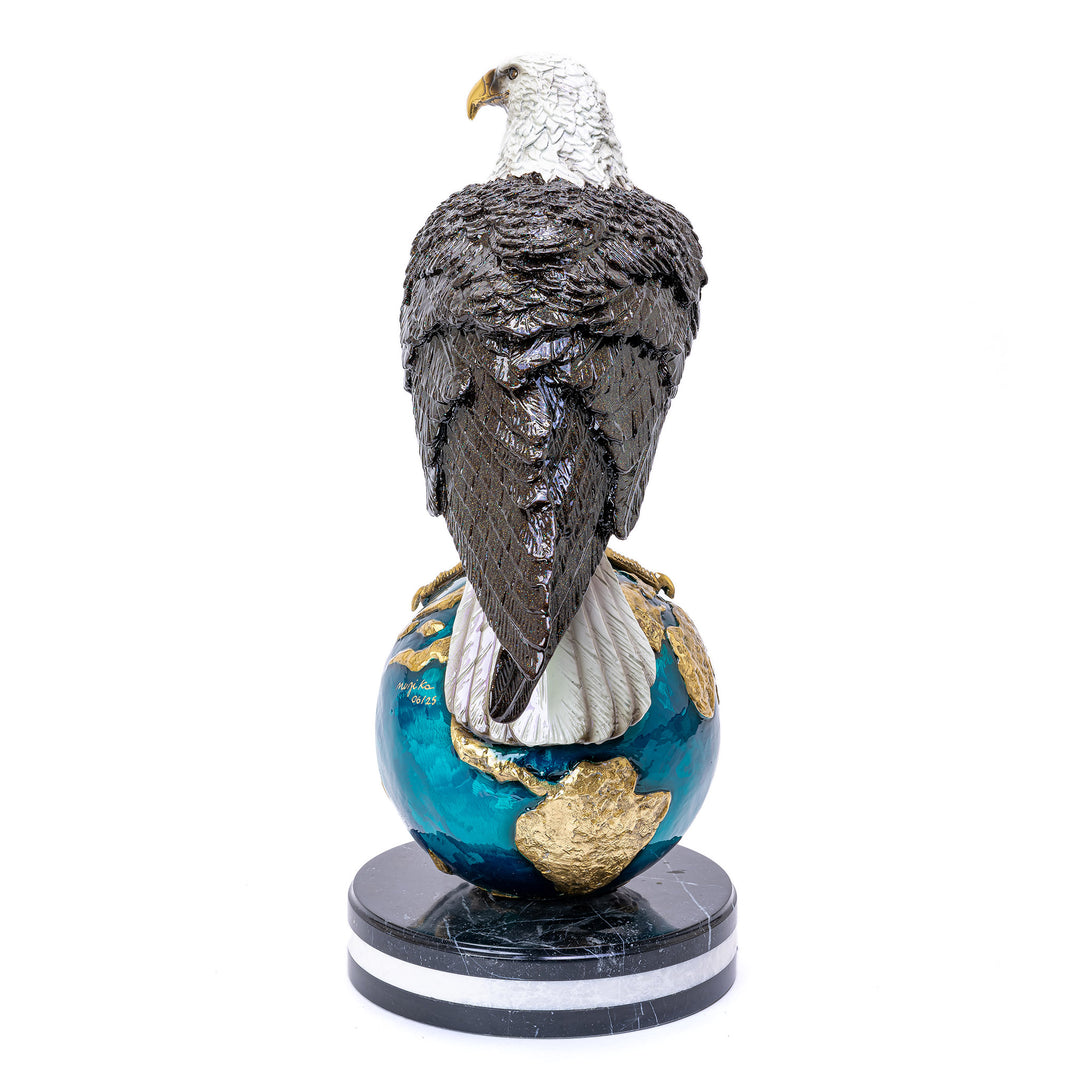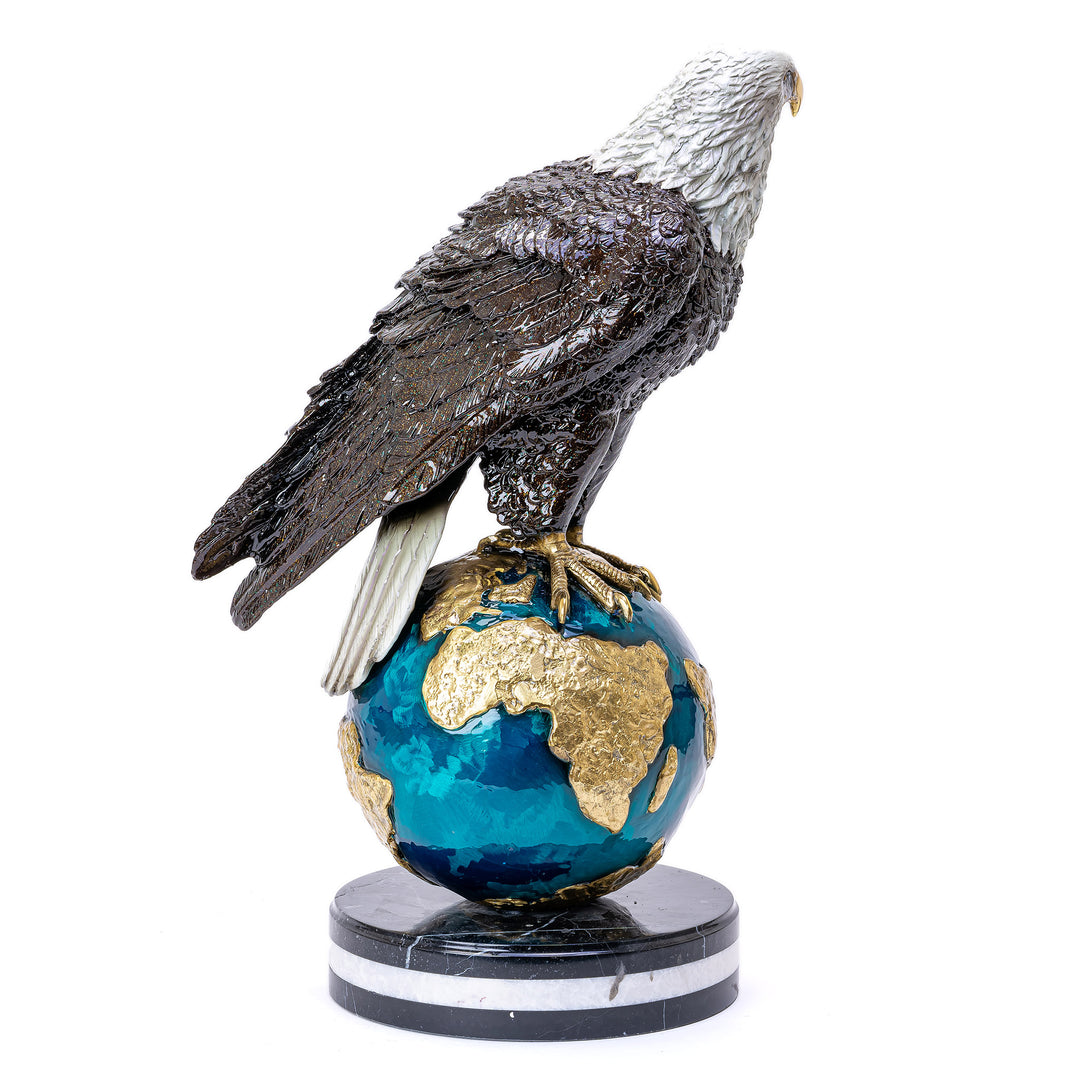 All Bronze Eagle on Globe
17022
Discover the Timeless Beauty of the All Bronze Eagle on Globe

Embrace the elegance and power embodied in the All Bronze Eagle on Globe sculpture. Crafted with utmost precision and artistry, this magnificent piece is a captivating symbol of strength, freedom, and grace. Adorn your space with this stunning sculpture and let it become the centerpiece that enchants your guests and uplifts your spirit.
A Testament to Majestic Excellence
Handcrafted by skilled artisans, the All Bronze Eagle on Globe sculpture is a testament to meticulous craftsmanship. Every intricate detail has been painstakingly created to capture the essence of the mighty eagle and the allure of the globe it soars above. The lustrous bronze finish adds a touch of opulence, making it a true masterpiece that will leave a lasting impression.
Invoking Emotions of Empowerment and Inspiration
Imagine the awe and wonder that will fill your space as the All Bronze Eagle on Globe takes its rightful place. The presence of this awe-inspiring sculpture will evoke a sense of empowerment, reminding you of the limitless possibilities that lie ahead. Let its graceful wingspan and unwavering gaze ignite your inner drive and inspire you to reach new heights.
Elevate Your Space with the All Bronze Eagle on Globe
Transform your living room, office, or study into a haven of sophistication with the All Bronze Eagle on Globe sculpture. Its remarkable design and remarkable presence will effortlessly enhance any environment, making it an ideal addition to both contemporary and traditional settings. Let this exquisite artwork captivate your guests and become a cherished conversation piece.
Unleash Your Interior Design Creativity
The All Bronze Eagle on Globe opens up a world of possibilities for your interior design vision. Its versatile appeal allows you to integrate it seamlessly into various decorative styles. Place it on a mantelpiece, coffee table, or display shelf to instantly elevate the ambiance of the room. Create a focal point that showcases your refined taste and appreciation for timeless artistry.
Unforgettable Gifts for Loved Ones
Searching for a unique and memorable gift for a special occasion? Look no further than the All Bronze Eagle on Globe sculpture. Its symbolic significance and undeniable beauty make it a meaningful present for loved ones who appreciate fine art and have a passion for exploration and freedom. Give them a gift that embodies strength, grace, and the pursuit of dreams.
Expert Craftsmanship for a Lasting Legacy
When you choose the All Bronze Eagle on Globe, you choose excellence that stands the test of time. Each sculpture is meticulously handcrafted using the finest materials and techniques, ensuring unparalleled quality and durability. Invest in a piece that will become a cherished heirloom, passed down through generations as a testament to your discerning taste and appreciation for craftsmanship.
Uncompromising Attention to Detail
From the meticulously sculpted feathers to the intricate globe beneath its claws, the All Bronze Eagle on Globe embodies uncompromising attention to detail. The artisans have painstakingly perfected each element, resulting in a sculpture that exudes authenticity and finesse. Bring the essence of nature and the allure of faraway lands into your space with a masterpiece that leaves no detail overlooked.
Your Gateway to a Captivating Experience
Immerse yourself in the captivating experience of owning the All Bronze Eagle on Globe. As you run your fingers along the smooth bronze surface and gaze into the eagle's piercing eyes, you'll be transported to a world where imagination soars freely. Let this exquisite sculpture become a gateway to extraordinary stories and unforgettable moments, evoking emotions that words alone cannot express.
What makes Muzika's work so stunning and unique, is the quality of paint he uses when he applies the finishes to the sculptures. Muzika uses Ferrari, Lamborghini, Rolls Royce and other exotic car paints to finish his sculptures. He then applies 10 layers of clear coat to protect the sculptures against all types of weather. This process is unique to Muzika. Not only did he create this process but he perfected it!
Artist Bio - Born in a small town in south Brazil, Muzika showed a natural gift for art from an early age. As a teenager, Muzika developed custom painting techniques and perfected them into what would later become his trademark... Vibrant colors and candy-coated patinas. Muzika was inspired by places, cultures and exhibitions he attended. His works have been reviewed by art critics and collectors worldwide, with Muzika being known as one of the most promising young artists today.
In 2019, Muzika was invited to exhibit his work at Regis Galerie in Las Vegas, marking his first ever solo exhibition in the United States. Regis Galerie showcases the works of established and emerging artists from around the globe who elegantly meld their own cultural influences with modern poetics, creating their own distinctive style.
Dimensions: 9" x 14" x 26"
---